The two firms share the same business values
Insurtech Waggel has joined forces with K9 Nation, an online community for dog owners and dog-friendly businesses, in a bid to modernise the dog industry.
Waggel launched an app in December 2018, which allowed customers to tailor their insurance policies by choosing their own coverage and excess. It allows quotes to be made in under 30 seconds and claims to be submitted in under 10 seconds, trackable in real-time via a smartphone.
Becky Baker, K9 Nation's founder, said the firm is excited about partnering with Waggel, as the two firms' "business values really align".
She added: "We're both committed to taking a holistic approach to the welfare of dogs and their owners and want to ensure that people have the tools they need to get the very most out of their relationship with their dog."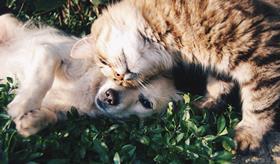 This follows an uptick in pet insurance over the coronavirus-related lockdowns, as many people looked into getting a new addition to their family. However, puppy theft has also surged during the pandemic.
Shared mission
Rachael Condon, head of marketing at Waggel said: "We know pet ownership is full of highs and lows, at Waggel we want to support our members beyond just paying a claim but with all aspects of pet ownership. A partnership with K9 nation can help us achieve our goal."
K9 Nation is currently looking at a second round of investment, to continue growing the business and scaling its offering - this includes adding more features in its app and securing a significant marketing budget to raise awareness among the dog owners' community.
Jordan Dargue, K9 Nation's chief executive officer, said: "Waggel has digitised the insurance process, from getting your quote to being able to upload your claim online in just three simple steps.
"This supports our aim to help modernise the dog industry and give dog owners the same enjoyable tech experience they have come to expect in other aspects of their lives."