Insurer gives more than £250,000 to 79 community projects championed by brokers nationwide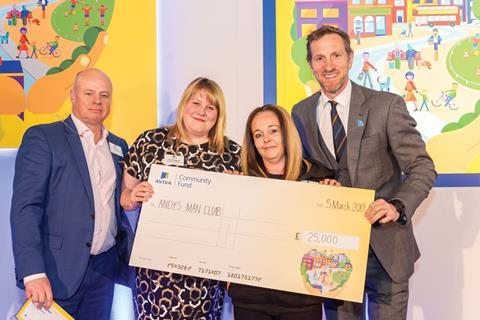 Phil Bayles of Aviva (left) and Will Greenwood present a cheque and for £25,000 to broker Eastwood and Partners for Andy's Man Club
Aviva proved there is much more to the insurance industry than just making money, as brokers and charities came together for its Community Fund Broker Finale 2019.
Now in its eighth year, Aviva's fund has given out almost £1.4m to more than 300 broker-supported causes since 2010.
The UK's biggest insurer gave out a record total of £258,481 this year to 79 different community projects from across the UK that are close to the hearts of Aviva's UK broker partners.
At the awards signature ceremony, 59 finalists in contention for the three biggest awards – up to £5,000, up to £10,000 and up to £25,000 – travelled from across the country to Manchester's stunning Monastery venue. Aviva had already handed out £1,000 rewards to 22 community projects prior to the ceremony.
Here they joined the broker who nominated them as they heard from some of the most deserving community projects in the UK and what they hoped to do with funding provided by Aviva.
My favourite working day
Aviva's managing director of intermediaries Phil Bayles announced the winners on the day, revealing it is always his favourite working day of the year.
"This is our biggest-ever finale event and we're delighted to see so many passionate community brokers and to be able to support so many causes this year that are fundamental to your communities.
"More than two-thirds of our business comes from brokers in the UK and it only works if we work in partnership with our brokers," he said.
"It's a fundamentally good thing to do and we are very proud that we've been able to give more than £1m to good causes over the last number of years."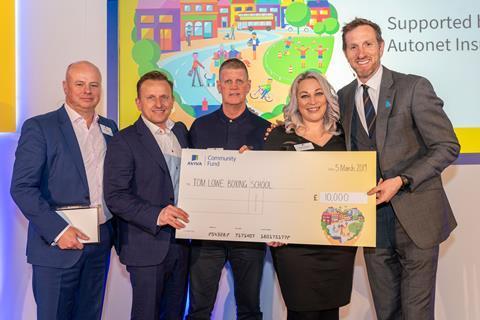 (From left) Phil Bayles, Aviva, Ian Donaldson, Autonet, Tom Lowe, Tom Lowe Boxing School, Donna Sturge, Autonet, and Will Greenwood
Watford Sheltered Workshop, nominated by James Hallam Insurance Brokers, was one of three winners of the £25,000 award. The group said the money will allow more people who would otherwise find it difficult to get employment to find paid work in areas like engineering and electrical.
James Hallam's commercial manager Paul Trainor was overjoyed with the win and explained why it was such a worthy cause.
He said: "Watford Workshop plays a vital part in an individual's transition into unsupported employment within a mainstream workplace.
"They are making a big difference to the lives of some of our most vulnerable and too often forgotten and neglected members of the community."
The brokers had also nominated star individuals from their projects whose efforts have gone over and above to support their cause, and 12 special recognition awards were given. These included George Emmerson from YMCA Lurgan Wonderwall for his 30 plus years' service, and Hilary Cass from Gloucester Child Contact Centre who, at 74, zip-lined across the rooftops of Gloucester to raise money.
As well as a memorable day at the former Franciscan church and friary, including a three-course lunch and entertainment from the local Gorton Voices Choir, it was also an opportunity to network with other likeminded grassroots causes.
World Cup-winning former England rugby star and Aviva Community Fund ambassador Will Greenwood hosted the event, and he led a group discussion where brokers and the finalists revealed their biggest successes and failures on community projects.
All willingly offered advice to fellow finalists on what they could do to raise more money and awareness for the many different projects.
Something for everything
Greenwood revealed details of his own charitable efforts, including trekking in the Arctic last year to raise £500,000 for premature birth research charity Borne. The sportsman has a history of helping the charity since his son Freddie was born prematurely in 2002.
And while not all causes could win the cash donation they hoped for, all came away something.
"For us to be able to do something which helps the brokers help the good causes in their community, it's a really obvious thing to do. It's something we're proud of and something that we enjoy doing," said Bayles.
Finalists who missed out on one of the main awards received a £500 donation from Aviva, and Greenwood encouraged them to take on board what they had learnt at the event and apply again next year.
Bayles added: "We are only here because of the communities that we exist within – the communities in which we have customers.
Bayles joked with the audience that new chief executive Maurice Tulloch had taken credit for the awards, with the initiative having begun in Aviva's Canada business.
Whatever the origin though, it's likely that Tulloch's support will ensure community projects supported by UK brokers will continue to benefit from Aviva's generosity for years to come.
LIST OF WINNERS
Up to £25,000
Friends of Ty Coch – Playground Inclusion Project (Gallagher Cardiff); Watford Sheltered Workshop
Building to the Future (James Hallam Insurance Brokers); Andys Man Club (Eastwood & Partners)
Up to £10,000
YMCA Lurgan Wonder Wall (Alan Brown); Drybrook Primary School New Library Mission (A Plan Insurance); Tom Lowe Boxing School (Autonet Insurance); Takeley Old Schoolhouse creating a community hub (AYS Insurances); Meiford Tennis Club court resurface (Jelf); Menphys Volunteer Development Programme (Berkeley Insurance Group)
Up to £5,000
Burlish Park Primary School – Window to the World (Eureka Financial Solutions); European Opera Centre Life Skills Through Opera (Gallagher Liverpool); Love Hockey Ireland – Skate 2 Health (Lorica Insurance Brokers); York Cares Number Clubs (aQmen Underwriting); Tiptree Heath School (Aston Lark); Bens Den The Ben Parker Trust Fund (Coversure Insurance Services); The Friendship Project
supporting disadvantaged children in Warwickshire (Gallagher Coventry); Tewkesbury Sea Cadets equipment for workshop (Gallagher Tewkesbury); Shine Cancer Support Shine Camp 2019 (NC Insurance); The Albrighton Trust wheelchair accessible wildlife observation point (Plester Group); Supported Community Business special needs (RK Henshall Insurance Brokers); Accuro School Holiday Project (Scrutton Bland); Norfolk Family Carers Young Carers Summer Groups (Towergate Insurance Norwich); Blaby & Glen Parva Community Service replacement chairs for the elderly (BHIB Insurance Brokers); MK SNAP On the Road (Bullerwell & Co Ltd); Cults Primary School new food technology area (H&R Insurance Services); Herriot Hospice Homecare Respite Sitting Service (McClarrons Ltd); Off the Fence Saving the Lives of Homeless in Brighton & Hove (Sutton Winson)
Special recognition awards
George Emmerson from YMCA Lurgen – Wonderwall (Alan Brown and Co); Hilary Cass, Gloucester Child Contact Centre (Cass-Stephens Insurances); Tracey Parker, Bens Den – The Ben Parker Trust Fund (Coversure Insurance Services); Eileen Mathieson, Darcy's Equine Assisted Learning Centre (Lockton Companies); Jane Kenyon, Girls Out Loud Motivating the middle – The Big Sister Programme (Stanmore Insurance Brokers); Michelle Mitchell, 'Family First' Combating isolation (Grove & Dean Insurance); Gerry Galvin, Coalisland na Fianna Run 4 Life (B MvKernan & Co); Richard Barrett, The Friendship Project – Supporting disadvantaged children in Warwickshire (Gallagher); Tracey Oram, Tiptree Heath School – Kids Inspire (Aston Lark); Sarah Jones, Friends of Ty Coch – Playground Inclusion Project (Gallagher); Lisa McIntyre, Watford Sheltered Workshop – Building to the Future (James Hallam); Gill Christmas, Autism Bedfordshire 'Loads of Autistic Fun' (Cogent Financial Planning)