The results are in from this year's Five Star Rating Report: Commercial Lines – which insurers and brokers were ranked as best in their field? Can you guess?
Covéa Insurance and Markel have come out on top in the Insurance Times Five Star Rating Report: Commercial Lines 2020/21.
Brokers across the UK awarded both insurers a maximum of five stars each for overall service across all five of the key service areas being investigated in the annual survey – this is the third consecutive year that Covéa and Markel have achieved this accolade.
The Five Star Rating Report: Commercial Lines 2020/21 provides an overview of how brokers believed commercial lines insurers performed in key service areas pivotal to a successful partnership.
The report includes overall star ratings, in-depth company profiles and results, five-year trends and analysis, highlights regional broker challenges and describes how brokers see the commercial lines industry developing in the future.
The annual Broker Service Survey focuses on five service factors, with brokers rating insurers on each of the following:
Overall claims experience.
Overall policy documentation.
Overall quality of cover.
Overall relationship management.
Overall underwriting experience.
The survey was open to UK-based brokers throughout September and October 2020. Brokers were asked to identify and rate the insurers they work with that they have regularly placed business with during the past 12 months. Approximately 600 brokers took part.
Covéa Insurance and Markel were the only insurers to be awarded five stars out of a field that included Ageas, Allianz, Aviva, AXA, Hiscox, NIG, QBE, RSA, and Zurich.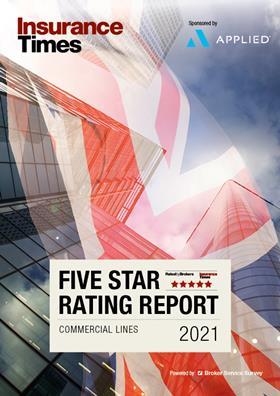 Insurance Times subscribers will be able to review this year's Five Star Rating Report for both commercial lines and personal lines from today via the Insurance Times website.
Positive feedback
According to Insurance Times's head of research Savan Shah, brokers were impressed with Covéa's strong relationship management approach, supportive underwriting team and fast turnaround. In particular, brokers responded well to Covéa's ability to maintain high standards of service throughout the challenges of the last 12 months.
As for Markel, Shah added that brokers were pleased with the insurer's flexible and honest underwriting approach, risk management support, its bespoke approach to client circumstances and quick underwriting decision-making.
Brokers also highlighted several areas where they would like to see improvements, as is the case with all insurers involved in this year's survey.
"I'd like to thank all the brokers who took part - your feedback really does influence the future of commercial and personal lines insurance. We know that insurers take the survey seriously and strive to improve using the feedback that you give," Shah noted.
Here are some examples of the feedback received from brokers regarding the two five-star commercial lines providers:
One broker based in Wales said of Covéa's overall service: "I love their attitude to service, excellent SLAs — they don't just talk the talk, but walk the walk. Even in lockdown, this was maintained. Says a lot about Covéa."

One broker based in the South East said of Markel's overall service: "Markel has been very accommodating and helped us place a lot of new business. It has also helped where the clients have been slightly outside of its criteria to help place insurance on their behalf."

For further in-depth analysis, including broker type segmentation, full broker feedback and more, take a look at the Insurance Times Commercial Lines Five Star Data Insight Book.
To find out more, please contact fivestar@insurancetimes.co.uk or jack.thomson@insurancetimes.co.uk for details.