Insurer RSA is one of the partners on the project led by Software Solved
Innovate UK has announced that it will fund a two-year research programme that uses machine learning to better forecast risk.
It will see RSA and Plymouth University partner with Exeter-based firm – Software Solved.
The software firm will also work together with other insurance brands which have yet to be announced.
And it will feed into ongoing 'risk' work in the insurance industry and Innovate UK will be reporting back to the government on its progress.
Martin Turner, risk consulting director at RSA Insurance, explained: "Having the ability to use machine learning to automate the assimilation of significant volumes of valuable data at our disposal enables us to forecast risk with a far greater degree of confidence.
He claims it will allow RSA to more accurately deploy its risk management tools and resources to help reduce the probability of claims.
Research
Software Solved is already working with six of the top 10 insurers including RSA, AXA XL, XL Catlin and Aviva.
This project will see the firm partner with the university to develop ways to use machine learning to automate data, predict future risks using open data and reduce ongoing claims.
Plymouth University will be providing the research expertise for the project.
Ian Howard, associate professor at the University of Plymouth, explained that the institution will also be providing pattern recognition, data modelling, statistics and predictive analytics.
Automating risk
Jon Stace, principal technical consultant at Software Solved, added: "Focusing on how we understand, measure and predict future risks, by applying machine learning, has the potential to improve how we assess, carry out and automate risk assessment across the insurance sector.
"This is about collaboration and shared learning that will put Software Solved and our partners at the forefront of machine learning and risk."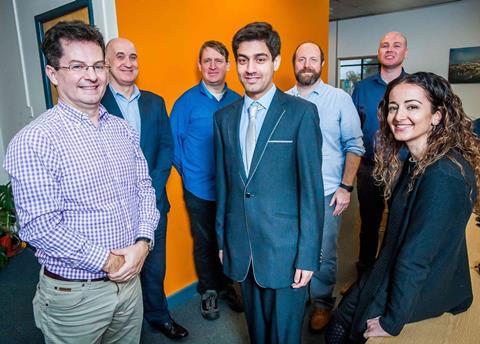 Group shot (L-R) Andy Treen and David Marshall, knowledge transfer advisors; Ian Howard, associate professor and Aneeq ur Rehman, project associate at University of Plymouth
Jon Stace, principal technical consultant and Tom Rooks, lead development at Software Solved, and Luciana Dalla Valle, University of plymouth programme supervisor
He said that the project is also an opportunity for the software company to build on its digital offerings and solutions as it continues to expand.
Software Solved provides software, online customer portals and real-time data solutions for the insurance industry.
Subscribers read more
Briefing where has it gone wrong for RSA&I and what's next?