Adverse weather in the UK cost RSA £18m, resulting in a personal lines loss
RSA UK made an underlying profit of 39m in the first half of 2018, despite making a loss on the personal lines side of the business.
Chief executive for UK & International Steve Lewis blamed adverse weather conditions caused by the 'Beast from the East' for the £11m loss in personal lines.
The cost impact of Britain's adverse weather on RSA was put at £18m, and resulted in a combined operating ratio (COR) of 101.9%.
But the loss was balanced against a £50m profit on the commercial lines side of the business - a COR of 93.2%. The COR for the overall UK business was at 97%.
Lewis said he was pleased at how the UK business had bounced back from a disappointing H1 set of results last year.
Lewis said: "If I was to look at the five years from 2010 to 2014, the UK was about break even for every one of those five years. If I look at the last three years, ven allowing for the storms in 2015, the hurricane losses of 2017 and large losses, the UK delievered an average annualised profit of around £40m
"We've already delivered close to £40m underwriting profit just for the half year of 2018. That's despite almost £20m of adverse weather losses.
"The trajectory for the UK business is a positive one."
RSA UK & International results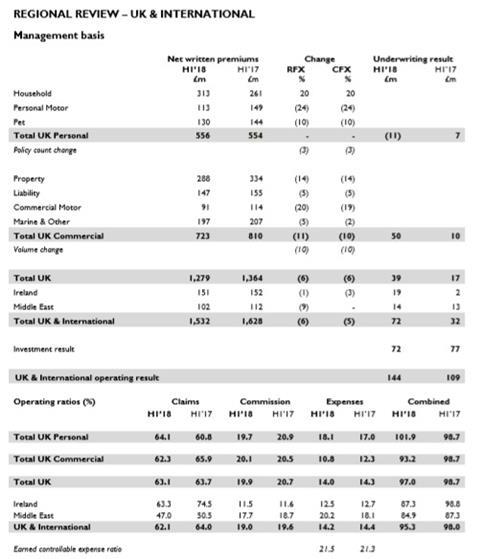 On both the personal and commercial sides of the business, volume of customers was down 10%.
Chief finance officer Matt Hotson said this was due to a disciplined pricing strategy.
He added: "We have pulled out of a number of portfolios and MGAs and deals, as well as holding our discipline on price increases despite relatively soft conditions in the market and we've seen an impact on our top line premiums as a result of that."
On personal lines he added: "Strong pricing action to remediate the issues we've had in the past has lead to some volume weakness, albeit this is offset by the performance of our Nationwide partnership, which went live at the end of 2017. Personal line premiums remained flat at £556m."
He added: "It's a good return on the UK business and is a significant bounce back from 2017.
Subscribers read more
THE BRIEFING: Personal lines broking