The burgeoning space sector could present additional risks for insurers, says Swiss Re
Solar storms and space weather could lead to business interruption and data loss claims if they were to damage satellite space and data services, causing cascading impacts on Earth-based IT-systems.
Collisions between space-faring objects – such as satellites, space stations and debris – could also incur property or casualty claims.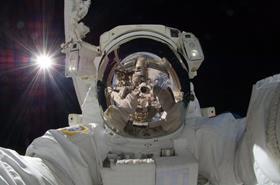 Risks from the growing space sector were included in the annual Swiss Re Sonar report released last week (16 June 2022), which aims to identify emerging risks insurers should be aware of by gathering information from underwriters, client managers, risk experts and other employees working at the reinsurer.
Swiss Re's report categorised nine new emerging risks and five emerging risk trends into level of impact, the time frame in which they would emerge and the business spaces they would impact.
The reinsurer categorised risks associated with the "commercial space age" as likely to begin having a medium impact on insurers after three years, with risks mostly concentrated in speciality lines markets.
Private firms are increasingly building and operating rockets, commercial space flights and satellites. The ever increasing deployment of tech into orbit around the globe is creating new risks for insurers, said Swiss Re.
A growing sector
The firm estimates that the commercial space industry may be worth $1tr (£82bn) by 2040 – up from $350bn (£285bn) today.
This growth will mainly focus around private rocket launches for tourism and commercial payloads and satellite systems to facilitate more global services.
Insurers have traditionally offered third-party liability insurance to commercial space operators for damage to satellites, rockets and unmanned spaceflights, although appetite for offering liability to private space passengers has been minimal.
Swiss Re predicts that this could change as insurers develop policies that cover for bodily injury for space travellers, as well as directors and officers' (D&O) cover for the management of space operating companies.
Increased insurer appetite could be facilitated by new, supportive legislation, said Swiss Re: "Internationally-binding regulations to order space traffic, rights and duties could boost the currently limited appetite of insurers to provide life and health, liability or D&O covers in the context of space tourism and other space activity."
This would, in turn, allow for insurers to support the burgeoning space sector.
"Such policies will need to be available on the market before space travel can transform into a fully-functioning tourism offering," added the report.