But overall investment levels have declined year-on-year by nearly half
Investment activity in UK insurtechs was more than $1bn (£780m) in 2018, compared to $792m (£616) the previous year.
This was according to the findings from KPMG's latest Pulse of Fintech report.
And although the UK's investment peaked last year, overall investment levels have declined year-on-year by nearly half, at $5.7bn.
Shift
It follows a shift in how traditional insurance companies and insurtechs view data. Both recognise the role of data when selling on-demand insurance products and creating them.
And over the past year insurtech as a sector has also 'significantly matured'.
The focus of many insurtechs also shifted to platform-based models with firms looking for ways to plug into different distribution networks or payment systems.
This, the report said, gave rise to many firms re-thinking their data management strategies to bolster trust with consumers and encourage them to share data for the provision of tailored products.
It predicted that corporate investment will remain strong, but there may be a lean towards partnerships.
UK
Simon Ranger, head of insurance, KPMG UK explained: "Clearly, the UK has a thriving insurtech sector.
"We are seeing the market mature as fewer, but bigger, deals take place. In line with overall fintech investment activity, insurtech was fuelled by the first half of the year with investment nosediving in H2."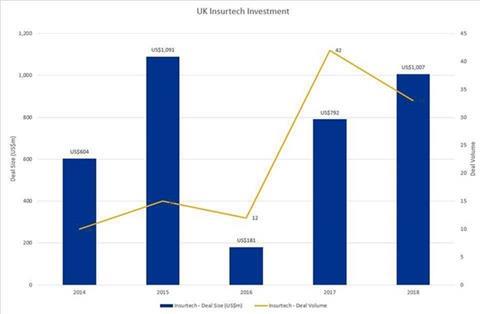 Pulse of Fintech 2018, Global Analysis of Investment in Fintech, KPMG International (data provided by PitchBook) January 4, 2019
Global
Globally thirteen deals worth over $100bn in insurtech took place throughout the year.
Will Pritchett, head of insurtech, KPMG Global, said: "Whilst globally there has been a sharp drop in insurtech investment since 2017; $6 billion is still easily the third-highest annual total ever.
"Looking to the year ahead, Asia is poised to see substantial growth in insurtech investment, in part driven by US and Europe-based traditional insurers looking to use Asia to test alternative insurance offerings.
"Compared to the US and Europe, Asia is seen to have relatively low barriers to entry, a high population base and fairly light regulations — making it highly conducive for testing innovative options.
"The UK is positioning itself well as our government and regulators continue to build fintech bridges with Asia, to help reduce regulatory barriers and support growth in a post-Brexit world."
Investment magnets
Ranger added: "Claims management and the unbundling of services and processes were magnets for investment through 2018, and I expect that to continue.
"Exciting technologies like AI and Machine Learning are going to redefine insurance, but it will be almost impossible to see their full potential until firms have dealt with the basics - their data and legacy systems - and that for most, is still a work in progress."
He said that between July and December 2018, just $63m of investment activity took place, versus $406m during the same period in 2017.
But he questioned whether this trend that will continue.
The reported highlighted that insurtechs are maturing rapidly and attracting larger funding rounds globally.
Subscribers read more
Insurtech investment crucial to operations and cost handling - Juniper Research