Markerstudy has invested in a range of technologies to overhaul its customer data
Dan Fiehn, group chief operating executive at Markerstudy asked a crowd of industry professionals at Insurance 2025 to keep their hands up if they enjoyed buying insurance.
Out of a packed room in the underwriting stream, only one person kept their hand up.
He explained: "I would like to share some of the things that Markerstudy are doing to change insurance."
He said the sector is going through its "biggest technology revolution" in its history and at the forefront of this is data and artificial intelligence (AI).
Fiehn said that as a business Markerstudy is "passionate about transforming insurance."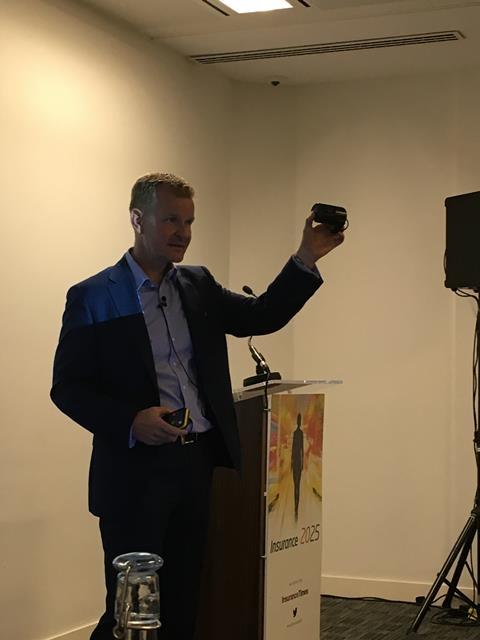 He went on to outline the problem to the audience: "As you are probably aware the rise of autonomous vehicles and more intelligent cars are going to have a profound effect on our lifestyle."
He said that according to Accenture, by 2035 around 23m vehicles in the US will be fully autonomous.
He added that this equates to about 10% of the traffic in the US at the moment and this is going to have a "big impact" on the insurance industry.
Autonomous vehicles
Firstly, he explained that these cars are safer giving Volvo's assisted braking as an example and citing that there had been no fatalities of drivers in the UK since its launch.
Fiehn said: "We are estimating that premiums will reduce so there'll be less claims, but these cars are going to be expensive. I think a Tesla costs £130,000 which is beyond the means of most people so there's going to be a decrease of private ownership and we are going to see more intelligent fleets of these autonomous cars leased on a journey or daily basis.
"And the environment is right for outsiders to come in and truly disrupt insurance, so you can see a time where you get in your tesla and press an icon that says, 'insure me for the journey' or you speak to Alexa and ask 'Alexa is it going to rain today?"
But he continued insurance isn't renowned for being "market leading" in terms of technology.
According to Gartner's Hype Cycle, he cited, around 30% of the systems we are using in insurance were implemented on or before the year 2000.
As leaders we all go by experience. Giving himself as an example he said: "We just don't have the experience of this new technology that is going to change our environment, plus as an industry we are naturally risk-adverse."
He warned that if insurance is going to shift by 2025, things have to start happening quickly.
Budget
The reality of it, he said, is that insurance as a sector is focused on running operations. At Markerstudy 70% of the technology budget goes towards business as usual (BAU), as there are little resources available, especially with regulation like GDPR.
But Fiehn believes technology is going to have a "real impact" on services, such as automatic processing, connected devices, Internet of Things (IoT), blockchain and artificial intelligence (AI).
All of this he said will introduce "unprecedented levels of operational efficiency."
About two and a half years ago, Markerstudy set out to tackle the acceleration of product distribution. It claims to have built one of the first cloud-based rating hubs in the UK, enabling them to reduce the time it took to launch a product from eight weeks to a matter of days.
Fiehn said that this had a "big impact" because the firm was able to get data from different sources and at "point of quote" enrich that data to provide better products for its customers.
He said that Markerstudy can now do something similar to Amazon and launch a product to different demographics, tracking whether it worked before a change is made for the whole market.
As data can be obtained at point of sale, he said the firm can now ask customers for less data but still recommend products for their needs, overall improving the firm's product placement.
He said that Markerstudy is currently processing 50m unique quotes per day, with about 25% being altered at point of sale, it enables the business to better detect fraud earlier in the buying process and be aware of customer behavior.
Machine learning
The firm also partnered with technology firm, DataRobot to improve its machine learning capabilities to intelligently price products. It tested this out on the team with the robot surpassing the time it took the team to complete the pricing task and it predicted the premium 50% more accurately in relation to what it was actually sold for.
He highlighted that the possibilities of these algorithms as broad.
Lastly he talked about Markerstudy's partnership with VisionTrack-a vehicle CCTV technology firm, which uses telematics to see what the driver is doing and enables communication with the driver in real-time.
But Fiehn also highlighted that one of the problems that accompanies more data efficiency is how to actually use these within a business, he said for Markerstudy the biggest challenge has been how to embed these quickly.
Markerstudy launched an app called TRICE in July aimed at offering short-term insurance fast and on the go. Fiehn said that he sees this as a "foothold into the future."
Subscribers read more
In conversation with Dan Fiehn group chief operating officer Markerstudy