The insurtech's chief executive says the partnership is 'a text book example' of why the business was started
Commercial motor insurtech unicorn Zego has teamed up with delivery marketplace platform Ryde to provide flexible delivery cover to its delivery fleets.
The partnership will allow Ryde to introduce insurance management tools across its platform as Zego integrates its insurance validation Application Programming Interface (API).
An API is a type of software interface with defined rules which allows two applications to talk to each other.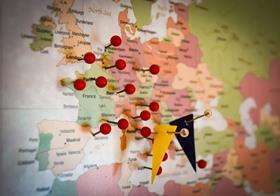 Sten Saar, Zego's chief executive said: "Our partnership with Ryde is a textbook example of why we started Zego.
"Via our API integration, we will be able to give Ryde's fleet managers hours back a week while ensuring that their fleet has access to a cost-effective, flexible insurance solution."
The deal follows Zego announcing its plans to expand in Europe and target the commercial fleet insurance market, which it estimated to be worth around £20bn in January 2022.
The insurtech originally aimed to offer a behavior driven insurance product that could save fleet managers up to 20% on premiums at renewal usuaing proactive risk management.
In March, Zego and Aviva inked a multiyear deal for fleet insurance.
Mission
Ryde hopes that deal will simplify its onboarding process for new fleet drivers and ensure they have suitable insurance in place – delivery couriers that opt for a flexible policy will only pay for using their vehicle while working, for example.
The firm's riders and drivers will have access to Zego's monthly, annual and flexible policies.
This, it hopes will also stamp out insurance fraud as well as reducing operational risk.
Duncan Mitchell, Ryde's chief executive, added: "Ryde's mission is to give businesses of all sizes access to leading delivery capabilities.
"The pandemic and wider consumer trends both highlight the growing importance of being able to offer speedy delivery – as more consumers enjoy online shopping, food and grocery delivery to home.
"While we focus on growing our network, it is important to have this partnership with Zego to focus fully on our mission, knowing insurance is covered."