Survey at inaugural Apprenticeships LIVE identifies bureaucracy as biggest hurdle to job training schemes

Bureaucracy is the biggest factor putting off insurance companies from taking on apprentices, according to delegates at the inaugural CII and Insurance Times Apprenticeships LIVE event.
The event, which was held on Monday to tie in with the start of National Apprenticeship Week, took place at the central London offices of the CII, Insurance Times' partner on the year-long initiative that aims to recognise outstanding apprentices and apprenticeship schemes.
Nearly one-third (31%) of delegates identified bureaucracy as the biggest barrier to employing apprentices. The second biggest factor, cited by 19% of delegates, was confusion about the process of recruiting and funding apprentices. See table, below.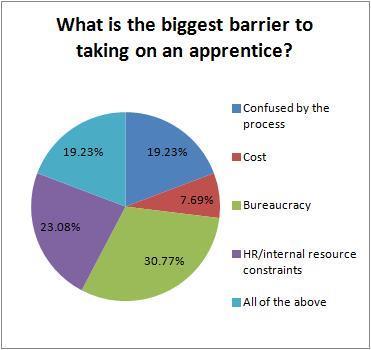 But Ashwin Mistry, president of the CII and chairman of Brokerbility, said none of the factors identified by delegates were sufficient to stop firms from recruiting apprentices.
"It makes strong commercial sense to bring people in, to invest for the future. We have succession issues. The gene pool is now desperately depleted," said Mistry, whose company took on 32 apprentices last year.
Mistry criticised the insurance industry for not doing enough to draw young talent in. He said only one insurer (Allianz) was represented at a recent careers fair at Surrey University, where his son recently studied.
Most delegates at the event agreed with this sentiment, with 77% saying that the industry was not doing enough to shed its 'dull' reputation.
The overwhelming majority (93%) of delegates said they had fallen into insurance with just 2% reporting that they had actively chosen to work in the industry.
Apprenticeships LIVE
Insurance Times and the CII have joined forces to launch Apprenticeships LIVE - a year-long initiative to recognise outstanding apprentices and apprenticeship schemes in UK general insurance.
Together they will be travelling the UK at a series of regional events to recognise outstanding apprentices, with the winners recognised at the Insurance Times Awards on 1 December.
The regional events will be held on:
Birmingham - 10 June
Manchester - 29 September
Bristol - 20 October
London (finale event) - 19 November
Insurance Times has also launched an Apprenticeship Scheme of the Year Award, which will be announced at the Insurance Times Awards. Insurers and brokers will be able to submit their entries from April.
For more information on either of these initiatives contact: hayley.bromilow@insurancetimes.co.uk.