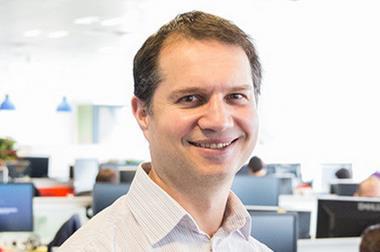 Simply Business has created an app that allows commercial insurance customers to swipe through a short question set to generate an indicative quote.
The product, internally named Swipe Me, is only at an early conceptual stage, but is already basing its user experience on the Tinder dating app.
Simply Business chief technology officer Lukas Oberhuber (pictured) told Insurance Times the company was considering further development of the app.
"The idea is Tinder for small business insurance quotes," he said. "It's built mobile first, and gives you a price based on statistical analysis.
"So with people giving us minimal information we can give them a price and then they will be prompted to receive a full quote. In reality our quoting engine already has the ability to give indicative quotes."
Tinder allows users to 'swipe' a smartphone screen left or right to choose potential dates.
A user of Swipe Me would receive an indicative quote after swiping through their insurance requirements.
The Tinder app interface is hugely popular, with an estimated 50 million people using it every month, generating more than a billion 'swipes' a day.
Swipe Me was unveiled at a Simply Business hackathon: the third such event held by the firm involving around a third of the company's 350 staff. The event showcases innovative ideas that can be directly developed back into the business.
Simply Business claims to be the UK's biggest business insurance broker, with around 300,000 customers.
A full interview with Oberhuber, in which he discusses ongoing innovation at the firm, as well as its growth potential into other sectors and geographies, will be published online shortly.