Growth of just under 6% is achieveable this year according to nearly two-thirds of brokers in this month's survey, while the focus for next year will be on retaining customers and broadening services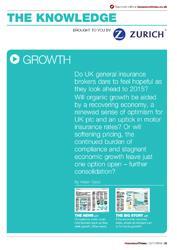 Nearly two-thirds (62%) of brokers in this month's Knowledge survey feel confident, or fairly confident, that they are on track to surpass growth of 5.8% in 2014.
Looking ahead to 2015, they said intermediaries need to improve customer retention and focus on broadening their service offering as well as targeting new customers if they want to see growth in 2015 (according to 55% of respondents).
This includes being innovative and exploiting new opportunities in emerging risk areas, such as cyber and environmental liability.
Developing schemes and non-standard products was also seen as a way to differentiate and tap a new customer base, although "you still have to find your niche", was a note of caution from one household and general insurance consultant.
Within commercial lines, property was anticipated to see the most growth over the next 12 months, followed by engineering and construction.
Click here to see a larger version of this graphic
Within personal lines, a recovering economy was likely to lead to opportunities within high net worth lines (according to 26% of respondents) as the affluent seek to insure prestige cars, luxury and second homes and expand high value art and jewellery collections.
Competitive forces will continue to be felt into 2015 with 38% of respondents saying this was the biggest barrier to growth. And with pressure coming from the continued shift of micro SME business moving online, 29% thought aggregators and changing distribution channels were their biggest threat.
To fight back, our respondents felt brokers need to better demonstrate where they add value.
Successful brokers will "compete on quality rather than price, focusing on the customer", said one.
"Professionalism and client service are of paramount importance to the buyer," said another. "Therefore, if a broker can excel in these areas, this represents a significant opportunity for growth."