More than 50 young brokers have been accepted onto the programme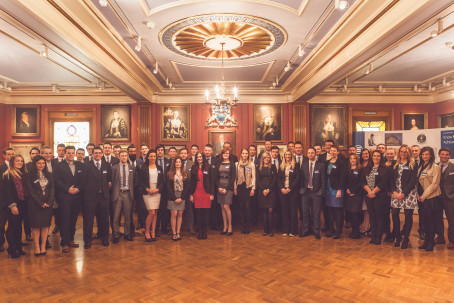 Allianz has welcomed 51 new brokers to its Academy Scholarship Programme at a launch event held at Painters Hall in the City of London.
Places on the 18 month programme, which helps brokers achieve their CII Diploma in Insurance, are made up of 33 commercial brokers and 18 working in personal lines.
The insurer had over 150 applicants vying for a spot on the programme before the final selection was made for the fourth year of the initiative, which has now supported more than 120 young brokers.
Allianz commercial general manager Simon McGinn, who spoke at the event, said: "It is a pleasure to welcome such talented and ambitious brokers to our award-winning scholarship programme. The last three years have been incredibly successful and we are now seeing the fruits of our investment for the individuals and their firms.
"Our belief is that the broking industry remains a critical part of ensuring our industry delivers value to customers and so we are proud to invest in the future talent of the broking community with this new intake of scholars."
Join the debate in our new LinkedIn specialist discussion forums