Covéa-owned insurer tops Insurance Times Broker Service Survey rankings again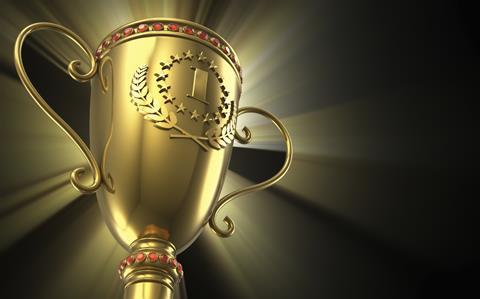 Sterling has come top of the Broker Service Survey for both commercial and personal lines for the second year running.
The insurer, now owned by Covéa, was voted top insurer by brokers for both commercial and personal lines in the 2015 edition, the ninth annual survey, which will be published next Monday 16 November.
And Sterling was rated considerably higher than its rival insurers.
In commercial lines, Sterling scored 4.50 out of five, up from last year's score of 4.46. Second was Lorega, which scored 4.21 in its first year in the rankings.
Third-placed in commercial lines was Hiscox, down one position.
Sterling's parent Covéa was the biggest riser in the survey, up seven places to fourth, with its score rising to 4.14 from 3.69. Chubb was fifth.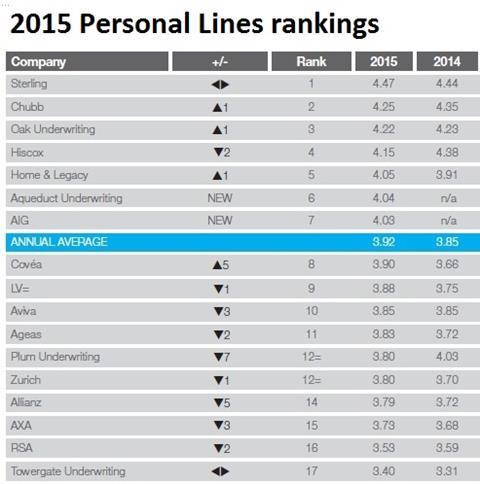 In personal lines, Sterling stayed in top spot with its score rising to 4.47 from 4.44. Chubb held on to second place, even though its score eased back to 4.25 from 4.35, with Oak Underwriting third, Hiscox fourth and Home & Legacy fifth.
Covéa was again the biggest riser, up five places to eighth with its score rising to 3.90 from 3.66.
Researchers surveyed 754 brokers, including top 50 brokers, network members, top independent brokers and small independent brokers. They were asked to score their insurance company partners across eight service dimensions: ease of access to decision-makers, underwriting expertise, claims fairness, claims speed, policy clarity, policy speed, quality of cover and e-trading options.
In commercial lines, Sterling came top in seven of the categories, only falling to fourth in e-trading, where Lorega topped the rankings.
Covéa and Chubb each came second twice, with Arista, Hiscox, Lorega and NIG filling the other commercial number two slots.
In personal lines, Sterling topped four service categories: ease of access, underwriting expertise, policy clarity and policy speed. Chubb came top in claims fairness, claims speed and quality of cover, and LV= led the e-trade rankings.
"We're chuffed to bits to have been recognised in this way. For Sterling Insurance to once again top the commercial broker service rankings and Covéa Insurance to be the 'highest climber' is something we're immensely proud of," said Simon Cooter, Covéa commercial lines and high net worth director.
"I'd like to offer our sincere thanks to all the brokers who have taken the time to vote, because this recognition really matters," he said.
"It's reassuring to see that we're continuing to focus on the right things, and continuing to meet the needs of brokers, as our businesses come together. Clearly we've great foundations on which to build and I believe that this survey provides strong evidence of our commitment to building our business around the needs of our broker customers and our great team of people," Cooter added.
"It's fantastic to see that the service we provide to our personal lines customers has been so highly rated by our broker partners. I'm delighted that once again Sterling Insurance has secured the number one slot and it's hugely rewarding to see that Covéa Insurance's continued investment in service is starting to make its mark," Covéa deputy chief executive John Blundell said, commenting on the personal lines survey.
"As an integrated business, embedding our reputation for great service is our number one priority and to do this we'll continue to focus on an uncompromising commitment to providing our brokers and customers the highest level of service, underpinned by market-leading products. Many thanks to all our broker partners for taking the time to share their feedback by voting for us," he said.
Blundell added: "We've got a great team, at both Covéa Insurance and Sterling Insurance, all focused on delivering great service, and collectively we're absolutely delighted with these results."
Have you ordered your copies of the BSS yet?
Make sure you get the detail behind the headlines and understand what's moved markets in the last 12 months – and where the markets are going in the coming year.
New for 2015/16, the BSS has been expanded to include a Level 3, where brokers have told us what lines they're planning to move into in the coming months – and who they want to work with.
To get your copy, contact us today
E: Akbar.ansari@insurancetimes.co.uk
T: +44 (0)20 7618 3406 (direct)
Downloads
Image, Size 70.6 kb

Image, Size 0.12 mb