The insurer's digital trading and automation director is adamant that the firm wants to 'bring the best of Aviva' to its eTrading functionality for brokers
As Aviva celebrates receiving an overall five star rating from brokers for its Fast Trade extranet, as well as for its service via software house platforms, the insurer's digital trading and automation director Maria Crockart says the firm is committed to bringing "the best of Aviva" for broker partners.
More than 800 brokers provided their feedback to inform Insurance Times' Five Star Rating Report: ETrading 2022, published this month, with the findings posting Aviva in pole position for its service via both its own extranet and through software house platforms.
These results mark the fourth consecutive year that Aviva's Fast Trade platform has achieved a five star rating from surveyed brokers, aligning with the insurer's overarching ambition to enhance brokers' digital journeys.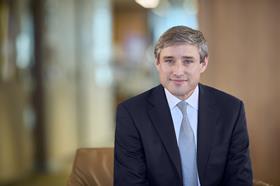 Crockart tells Insurance Times: "We are so pleased with the results. We would like to thank all of our brokers [that] participated in the survey. Brokers play a crucial role in everything we do as a company."
Despite the thumbs up from brokers, Crockart notes that Aviva does not intend to rest on its laurels when it comes to improving brokers' digital trading functionality.
"Our underwriters are so pleased with the results, but they fully understand that we need to keep investing in our technology and relationships," she explains.
"Our success comes from listening to and seeking feedback from our brokers. It helps us shape our world and the way in which we interact with our brokers.
"We have always adopted a strategy which combines technology, our trading approach, our people and our broker relationships."
For the last three years, Aviva received a four star rating from brokers for its service via software house platforms.
For 2022's report, however, brokers nudged the insurer's rating up to the highest five star award – level pegging with its extranet rating.
Crockart describes this even scoring as "the proudest achievement for me personally".
She explains: "We want our brokers to be able to trade in the way they want and on the platform they choose without any difference in the service they receive.
"Some years ago, we made a clear decision that we wanted to ensure that all our platforms would be brought to the same level.
"It is all based [on] a good service proposition, a wide range of products, listening to our brokers and [finding out] what they want to see from us and our underwriters."
Usability 'hygiene factor'
Aviva scored highly with regards to the report's usability and trading ease metrics – these were Aviva's top performing service factors across both eTrading routes.
Crockart says Aviva undertakes an annual survey, called Broker Barometer, as part of its research activities.
Its latest report, which surveyed 220 UK brokers in July 2021 and was published in August 2021, found that 26% of the insurer's broker partners wanted to trade more business digitally.
"Ease of [use on] the platforms has to be central to what we offer," she explains.
"We invest continually in ways in which we can enhance the ease of usability. That is supported by quality underwriting and speed of response if the risk does not fit the system.
"Where the risk does not fit the self-service parameters in the systems, we need to catch it quickly.
"If you look at the wider world outside of insurance, the ease of use of any system is not a 'nice to have' - it is simply expected. It is a hygiene factor today."
With this in mind, 2022's Five Star Rating Report: ETrading sought to discover how long brokers wait on average for an eTrade referral to be cleared when seeking cover for more complex products.
It found that 41% of brokers have to wait for more than two days for their referral to be cleared, while 33% say they have to wait one day.
"As an industry, we understand and accept the challenge we face," says Crockart. "There is clearly a demand from brokers for a better response - at Aviva, only 9% of our brokers have to wait longer than a day for a response.
"For example, in February and March [2022], we had 30,000 live chat conversations with brokers. We take the view [that] when it does not fit the system, then how can we best deal with the demand?
"As an industry, we need to be looking at how we can deliver greater simplification.
"We are constantly looking at ways we can improve the system and services. We have very recently increased the number of our complex products [that can be eTraded].
"If we can improve the system, we will invest in the tools needed to do so. It is a continual process."
Interaction and engagement
Insurance Times' latest eTrading report shows that brokers continue to call for more interaction with insurers - Crockart says Aviva continues to work hard to ensure its broker partners are heard and feel they can access the right insurer staff as and when they need them.
"Interaction is so important to us," she adds. "I will be at [the] Biba conference [this May, aiming] to meet with our brokers to obtain their views on how they find our digital offering and get more insight into what they need from us - both today and tomorrow.
"We have recently held a roadshow where digital trading was discussed and our distribution team are continually in brokers' offices.
"We are back in our [own] offices and we are back on the road. We have clear plans and strategies as to how we can best interact with our brokers."
Broker feedback published in the Five Star Rating report additionally revealed that many brokers fear that increasing levels of eTrading interactions with underwriters are becoming more rigid and, in some cases, a "computer says no exercise".
Crockart disagrees, noting that the demand for more complex risks to be transacted digitally is being met.
"Engagement with underwriters in critical," she explains. "Our underwriters are empowered to make decisions and provide a swift response to brokers [that] find their risks fall outside the system.
"I do not think it is a case of 'computer says no'. If it does not fit, we have the underwriting teams ready to discuss the issue with the broker and to deliver a solution."
She adds that as clients' risks develop, brokers are making new demands of their insurance partners.
"We have recently launched new products onto the system in areas such as cyber and management liability," says Crockart.
"We want to ensure that when brokers want to transact their business digitally, they can do so and we can bring the best of Aviva to the process."