The broker has also spent £125m on acquisitions so far this year
The Ardonagh Group has improved its adjusted earnings before interest, taxes, depreciation and amortisation (ebitda) in the first nine months of 2021 to reach £238.7m at the end of quarter three this year, compared to £165.2m for the same period in 2020.
These figures form part of the broking organisation's quarter three financial update, published on 17 November 2021.
Ardonagh attributed its 44.5% ebitda uptick "to acquisitions, organic growth and cost reduction from operational improvements and integration synergies".
The firm's income has also improved by 30.1%, moving from £519.5m in Q3 of 2020 to £675.7m on 30 September 2021. Ardonagh additionally noted "especially strong growth in the specialty and international platforms" so far this year, as well as 10% organic growth for 2021's quarter three.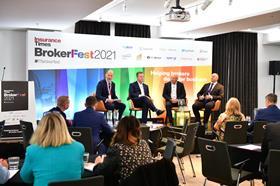 Operating costs grew by 23.3% however, reaching a spend of £437m at the end of quarter three 2021 versus £354.3m for the same period in 2020.
Operating cash conversion, meanwhile, was maintained at 96% for the 12 months to 30 September 2021 and senior net leverage remained at 5.2 times. Available liquidity amounted to £744m for the reporting period, pro forma for acquisitions completed to date.
Speaking on these results, Ardonagh's group chief executive David Ross said: "The group's strong financial performance has again improved on all measurements.
"Our focus this year on building out the specialty and international platforms has allowed us to harness global opportunities, backing ambitious specialist teams and businesses in high growth areas.
"The scale, support and expertise of Ardonagh, combined with trust and autonomy, is a powerful driver of organic growth."
Acquisition growth
The broker further reported £125m of investments for 2021's Q3, including Ardonagh Advisory's purchase of UK personal medical and protection insurance broker Usay Group in May 2021, Australia-based Resilium Partners' spend on Queensland broker Cornerstone Risk Group and the business' investment in the full shareholding of Price Forbes Chile.
Plus, Ardonagh's acquisition of Besso Insurance, Ed Broking and Piiq Risk Partners completed on 1 November 2021 – the broker noted that this deal makes Ardonagh Specialty the largest independent global specialty broker in the London market, placing over $5bn (£3.7bn) of insurance premiums.
Ross continued: "We approach year-end as a truly global force with $1.5bn income, placing $13bn of insurance premium across the group and within our networks and continuing to invest in the data and analytical capabilities to better serve our clients."