But the insurer's UK COR for general insurance has worsened by 7.3 percentage points year-on-year
Aviva has reported a 5% growth in its general insurance gross written premium (GWP) year-on-year, however the insurer's combined operating ratio (COR) for this part of the business has worsened to stand at 96.4% at the end of 2022's first quarter, according to the firm's latest financial results, published today (18 May 2022).
Across Aviva's GI operations in the UK, Ireland and Canada, COR has increased by 5.8 percentage points between Q1 2021 and Q1 2022.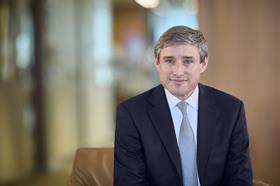 In the UK specifically, COR is even higher at 99.4% for 2022's Q1 – a 7.3 percentage point difference when compared to 2021's 92.1% recorded Q1 COR.
The insurer attributed this uptick to more normal claims frequencies following the Covid-19 pandemic and higher weather costs in the UK. For example, 5.2 percentage points of the UK's 7.3 percentage point COR growth is down to February's storms, which cost Aviva around £70m.
Personal and commercial lines
GWP across Aviva's general insurance business reached £2.1bn at the end of this year's first quarter, compared to £2bn for the same reporting period last year.
Aviva's UK general insurance operation recorded GWP growth of 4% overall. Primarily, growth has come from the insurer's commercial lines arm, with GWP improving by 11% year-on-year to stand at £611m at the end of 2022's Q1, compared to £552m in 2021.
The firm believes this improvement has been fuelled by rate momentum, new business growth and retention. It added that it has seen a 12% growth in its SME business and a 9% uptick in its global corporate and specialty lines.
In personal lines, however, Aviva's UK GWP has decreased by 2% to reach £627m in Q1 2022, versus £643m in 2021. It noted that retail premiums are down 1% year-on-year "driven by pricing discipline in a soft rating environment and intermediated premiums also down as we continue to reshape the portfolio towards higher margin lines".
However, following the introduction of the FCA's new pricing rules – which came into full effect from January this year – policy retention has improved across Aviva's home and motor books for Q1.
Best first quarter sales
Aviva additionally noted that is "observing increasing claims inflation" across its general insurance business – despite expecting this trend to continue further into 2022, the insurer aims to tackle inflation ramifications through "swift pricing, underwriting and claims management actions".
Speaking on the results, Aviva group chief executive Amanda Blanc said: "First quarter trading was positive and our performance shows the clear benefit of Aviva's business mix across insurance, wealth and retirement.
"We delivered healthy sales numbers across all our major business lines, with UK customer numbers up by over 100,000 in the last year to 15.4m, increasing our confidence that we can transform Aviva's performance and grow.
"We have also continued our momentum in general insurance, where we had our best first quarter sales in a decade, as more people were attracted to the strength of the Aviva brand and the quality of our products.
"We remain very well positioned to benefit from the long-term growth trends in our markets and to meet our upgraded financial targets. This is underpinned by our strong capital position, which benefits from rising interest rates.
"Our financial strength and market leadership give us confidence that we can successfully navigate the current uncertain economic conditions."
Adam Winslow, chief executive of general insurance for UK and Ireland at Aviva, added: "It's pleasing to see a strong start to 2022 in our UK general insurance business, with gross written premiums increasing 4% year on year to £1,238m, continuing the record GI growth reported in our full year 2021 results.
"We have maintained our strong sales momentum and brought in additional underwriting expertise, launched new solutions and embedded a regional approach to supporting brokers."