Rate improvements in the cyber market and lower natural catastrophe losses have contributed to the business' profit
Insurer Beazley has reported a profit before tax of $369.2m (£272m) for 2021, driven by an improved combined operating ratio (COR) of 93%, according to its full year financial results for the 12 months to 31 December 2021, published today (10 February 2022).
This increase in profit before tax compares to 2020's loss of $50.4m (£37.1m), which contributed to a COR of 109%.
Lower natural catastrophe losses in Q4 2021 aided the insurer's recovery in underwriting profit, alongside a rate increase on its renewal portfolio of 24% - up from 15% in 2020.
Gross written premium (GWP) last year increased by 30%, from $3.56bn in 2020 (£2.62bn) to $4.61bn (£3.4bn) in 2021.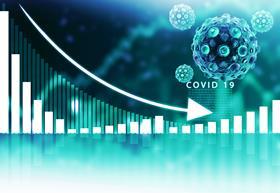 Net premiums written in 2021 also improved by 20% - moving to $3.51bn (£2.59bn) versus $2.92bn (£2.15bn) in 2020.
Despite Beazley's upward trajectory, net investment income dropped to $116.4m (£85.7m), compared to $188.1m (£138.6m) in 2020, due to rising rates driving market losses in its bond portfolio.
The insurer's interim dividend for 2021 sits at 12.9p, following suspension in 2020.
Cyber infrastructure investment
Speaking on these results, Beazley chief executive Adrian Cox said: "I'm delighted with Beazley's performance in 2021 where we have delivered GWP growth of 30% and a combined ratio of 93%, which has resulted in a robust profit of $369.2m.
"We saw good growth across all our lines of business, but were particularly encouraged by the opportunity in the cyber market, where we continue to see significant rate improvement.
"We maintain our disciplined approach to cyber and remain excited about the opportunities for Beazley in this market and continue to invest in our cyber infrastructure.
"We are confident in delivering continued double-digit growth in 2022 and our strong capital levels support both our growth prospects and the reinstatement of our dividend, where we have proposed 12.9p per share with respect to the whole of 2021.
"I approach the end of my first year as [chief executive] of Beazley with confidence about the future."