Insurance Times speaks to Markel UK about the strategic developments over the last 12 months about the five service areas being explored in the broker survey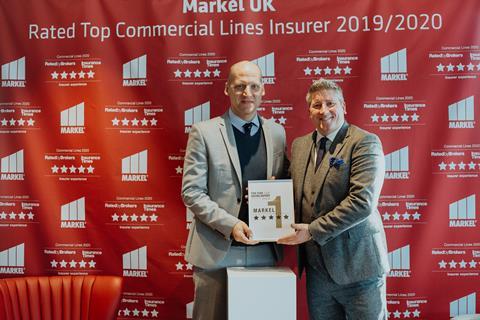 While the 2020/21 Insurance Times Commercial Lines Broker Service Survey is collecting responses from UK brokers, we will be speaking to insurers on strategy choices in five key areas of service important to brokers. Here, we speak to Markel UK.
A service area being investigated in this year's Broker Service Survey is around broker support, what has been your organisations broker support strategy over the last 12 months?
With the livelihoods of brokers and their SME clients under threat as lockdown restrictions hit, our strategy rapidly switched to supporting brokers and their customers in a different way.
We were able to make our in-house tax and legal support freely available to all.
Over 800,000 businesses, including brokers, had access to specialist content and advice enabling them to more easily navigate furlough, find alternatives to redundancy, and secure their businesses and thousands of jobs.
Our 100+ in-house tax and legal specialists worked closely with our insurance experts. We produced over 200 pieces of in-depth articles, videos and infographics which were targeted to customer needs as events unfolded. Each was made freely available.
Law Hub, our specialist employment law and health and safety content portal, saw almost 90,000 document downloads during lockdown as we made the content accessible for free.
A promotional partnership with BIBA ensured maximum take up of Law Hub material by all in the broker community – whether they were a Markel partner broker or not. We used Law Hub downloads and our legal advice line data to track changing business requirements and create new content targeted at specific needs.
Our legal specialists provided telephone advice to over 89,000 UK companies. And our tax consultancy helped SMEs claim over £10m+ in tax credits during the lockdown period, generating valuable cash flow to support their businesses.
We've had excellent feedback and seen sharp rises in engagement statistics since we began our revised broker support strategy. Website visitors have increased by 42%, and our specially developed online hubs for specific customer groups experienced 1,600 unique visitors between March and May.
Our social media channels also saw 10,000+ engagements from March to June, and we sent over 250,000 emails to ensure this valuable content would be as accessible as possible.
Nobody can prepare for the unexpected, but we delivered exceptional results when it mattered most because protecting our customers, providing peace of mind and creating certainty is at the heart of what we do. Covid-19 is far from over.
We understand that brokers and their SME clients continue to need this critical support so we'll continue to do whatever is necessary.
A service area being investigated in this year's Broker Service Survey is around the overall claims experience for all parties involved. What has been your organisations overall claims experience strategy over the last 12 months?
The historic event experienced in 2020 has changed the way we all live our lives – potentially permanently. When lockdown was announced, many of our SME customers were extremely compromised, giving them untold stress, anxiety and uncertainty about their future.
From the get-go, we were determined to live up to our sector-specialist reputation and 'Expect More' promise by supporting brokers and their customers in this time of need. Within a few days of lockdown, we had communicated our business continuity position and the impact of the pandemic on our policies.
We wanted brokers to be absolutely clear on our coverage position so they could rapidly respond to their customers.
Our strategy was to settle valid claims quickly whilst also supporting customers whose claims may not have been so clear-cut, or even invalid. We didn't wait for clarity to appoint loss adjusters.
Even if the claims were not valid, these customers still needed help and the loss adjuster would provide valuable advice. And where a standard approach wasn't appropriate, we developed bespoke solutions.
A prime example was the innovative solution for a 9,500-strong childcare membership group of individual carers/micro-companies looking after almost 30,000 children.
Covid-19 created a denial-of-access (DoA) nightmare for this group who were unable to access the workplace or accept children into their homes, with potentially devastating consequences for the children and their carers.
This group alone had the potential to increase the team's average monthly claims volume by 2,400%.
It's been well publicised that many insurers were slow to respond to these challenges. This left many customers in challenging situations at the worst possible time.
We worked tirelessly with the broker to implement a solution. In just 22 days we designed, built and delivered a dedicated online portal, allowing this group to submit claims quickly in a standardised format, making processing and settlement easy.
The solution meant that valid claims began to be paid within just a few days, making a crucial difference:
· DoA claims for childcare providers which were taking weeks to process/pay prior to the portal's implementation, fell as low as 4-5 days
· A total of 1,391 claims were processed via the portal from the period 22 April 2020 to 8 July 2020
While our staff were working from home, they engaged and coordinated IT, the membership organisation, the broker and our claims function to make the solution possible.
The technology could effortlessly:
1. Take a member's submission (with all supporting documents)
2. Consider policy cover based on the information provided
3. Calculate the loss
4. Arrange automatic payment
We demonstrated agility by transferring three staff members from our fee protection claims team, upskilling them so they could accelerate this requirement.
The membership group also had access to our dedicated legal helpline and Law Hub, offering Covid-19 guidance on issues such as furlough and health and safety.
The solution meant the huge surge in claims was managed efficiently, ensuring turnarounds times didn't detriment policyholders who desperately needed support.
Like many in the market, our claims experience strategy has been shaped by Covid-19.
We didn't batten down the hatches. Instead we found ways to support all our customers, even if their claims were not valid. And where we needed an innovative solution, we pulled out all the stops to achieve it.
The insurance landscape is evolving. Click here to have your say and you could win £250 John Lewis vouchers. Brokers how well have your insurance partners supported you over the last 12 months?
A service area being investigated in this year's Broker Service Survey is around underwriting. What has been your organisations underwriting strategy over the last 12 months?
With access to experienced underwriters so critical for brokers, we've worked hard to restructure our operations and strengthen this aspect of our business. Brokers can now easily discuss their customer's individual risk with an underwriter and get a quick decision, something that has made a meaningful difference.
We were delighted that brokers awarded us the full five stars in last year's survey. This tremendous result means we have to work even harder this year to improve our performance, something we're not afraid to do. We're proud of our underwriting expertise at Markel UK. Technical line managers have at least 15 years' experience in their particular specialism. They oversee and support our product line underwriters ensuring a quality and consistent approach. This experience means we offer a very personal service to our brokers.
Supporting brokers at a local level is something we've worked particularly hard on, and we restructured our branch infrastructure in recent times to ensure this happens consistently. We feel our changes have only helped to strengthen relationships. Now with our Broker Connect team handling the bulk of our e-trade and transactional business, underwriters have additional time to spend with brokers on more complex risks.
We were particularly pleased with comments from brokers in last year's survey such as: "Great underwriting, thorough and quick when required" and "Fast and effective turnaround of scheme underwriting referrals. Strong and mutually beneficial working relationship. Flexible underwriting approach to large, unusual or complex risks."
Comments like this help to reinforce that the changes we've made to the Markel UK business are working well for brokers.
A recent Markel Care example really helps to illustrate how our sector specialism can help us to work closely with our brokers to find a strong solution for clients. A large charity was struggling with a diverse portfolio of drug and alcohol misuse support programmes and facilities. These included detox clinics, drug awareness training, drop-in centres for the homeless and support for prison leavers.
We created a comprehensive programme for the client, replacing numerous policies with different insurers. Abuse, breach of professional duty and medical malpractice and other specialist risks were covered, and the single policy minimised the chance of claims falling between insuring clauses. Our underwriters are encouraged to meet clients with their broker once on cover, putting a face to a name and add to the personal service we can offer. We hope that brokers continue to experience the underwriting approach we always aim to offer and are keen to see the results of this year's survey.
A service area being investigated in this year's Broker Service Survey is around policy documentation. What has been your organisations policy documentation strategy over the last 12 months?
Accurate and clear policy documentation is incredibly important to brokers as they look to offer a smooth and transparent service to their customers. We've improved the clarity of wording and added dynamic elements to simplify documentation even further for policyholders.
To retain our maximum five-rating in the Insurance Times five-star rating report last year, and take the coveted number one spot was a fantastic achievement for all of us at Markel UK. Accuracy and transparency of policy documentation is one of the five service factors investigated by the survey. We recognise this is hugely important for our customers. Reducing insurance jargon and writing in plain English helps our policy documentation to be easily understood. We've also worked hard to make sure other customer communications are clear so there is no ambiguity. This includes everything from our contact details to our claims and complaints procedures.
Our policy wordings are also more dynamic. Customers only see the insurance clauses that are relevant to them, not the full set of clauses applicable to that specific product. This again adds clarity and helps to avoid confusion. Brokers also benefit from clear communication. Easy-to-understand documentation means it's more efficient for brokers to quickly understand and advise customers on the cover options that are available and appropriate to them. Moreover, it's easier to help a customer understand what they will not be covered for. It's vitally important that the insurance sector maintains its attention on providing clear and precise communication and documentation. This is certainly a focus for Markel. We're extremely proud of the progress we've made and to have brokers award us five stars for this criteria is a certain sign that we are on the right track.