The insurtech was gearing up for the launch of the product, in association with Munich Re, two months ago
Insurtech buzzvault has launched its personalised home insurance policy based on digital contents data.
The app-based proposition, backed by Munich Re, leverages customer data and mobile video survey technology to provide a seamless, frictionless customer journey – from application through to claim.
Insurance Times reported the insurtech was gearing up for the launch back in October.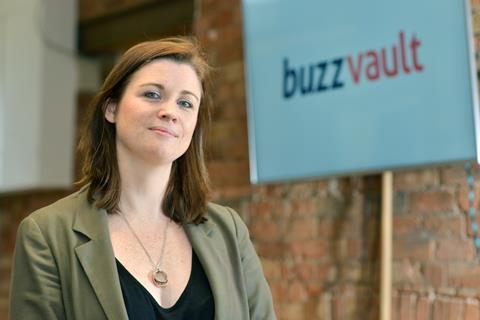 Chief executive, Becky Downing (pictured) said: "Unlike any other home insurance provider, we will know up front what our customers want to insure and exactly what needs to be covered by the policy, both at inception and as this changes over time for renewal quotes and MTAs.
"Customers with many possessions get the right level of cover, while those with few possessions don't pay over the odds.
"buzzvault makes protecting physical assets just as simple as protecting digital assets – essentially giving customers a way to "back up" the contents of their homes as easily as they can back up the contents of their laptops. "
Mark Dennis, chief operating officer of Digital Partners adds: "This corner of the insurance market is ripe for disruption.
"buzzvault will succeed because it responds to our changing lifestyles, ensuring householders can access insurance exactly matched to their needs. It's a great example of how insurtechs are empowering consumers through their data and we are delighted to be partnering with buzzvault on its journey to transform the home insurance market."
How it works
Using the app, consumers can survey each room in their home through a direct link to a buzzvault surveyor. All contents are then recorded, processed and stored on a digital inventory. This is personal to that customer and is called their personal 'buzzvault'.
The customer can alter the contents of the vault and get a valuation for their possessions.
New additions such as Christmas presents can be added at any time, and all products are protected both in and outside of the home.
Downing described how blockchain willplay a big part of the business in the future.
She said: "In the future, blockchain will give us the necessary framework – in terms of data integrity and security - to ensure that all parties in the value chain (our home customers, insurance backers and removals partners) trust in the process, which creates a virtuous circle to the benefit of everyone.
"This is a completely new concept in home insurance from a completely new insurtech that is free from the frictional costs and fraud risks that have blighted the customer experience and hindered business performance in this market.
"Ultimately, access to this unprecedented level of contents data will lower the costs to our business which equates to lower insurance costs for buzzvault customers. We are changing the game for home insurance for good."
Subscribers read more