The launch hopes to bring emerging and digital economy risks into the Lloyd's market
CFC Underwriting has announced that Lloyd's of London has provided "in principle" approval for the creation of CFC Syndicate 1988.
The new syndicate will be managed by Asta Managing Agency (Asta).
Currently, CFC and Asta are working to secure final approvals in order to commence underwriting business from 1 July 2021.
The syndicate will write a cross-section of the underwriter's existing portfolio of specialist, emerging and digital economy risks - it plans to have gross written premium of over £100m for its first year of trading.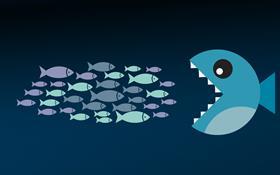 Capital will be provided by CFC and third-party capital providers.
CFC founder and chief executive Dave Walsh said: "A CFC syndicate supports our ambitious, technology-driven road map by bringing new capital to the table and offering access to licensing and resources that only Lloyd's can provide.
"We're excited to broaden our partnership with Lloyd's and look forward to supporting the Future at Lloyd's vision."
Future ambitions
CFC hopes the establishment of Syndicate 1988 will further its ambition to bring its underwriting portfolio to a wider range of potential capital providers, as well as enabling the business to share in a greater proportion of its own underwriting profitability
Lloyd's chief executive John Neal said: "We are delighted to welcome CFC as a new entrant to the market and are confident [its] innovative new platform can make a positive contribution to our Future at Lloyd's ambitions."
Asta chief executive Julian Tighe added: "We're proud to partner with CFC to bring Syndicate 1988 to the market.
"Their ethos, strategy and focus on technology embodies the spirit of the Lloyd's blueprint initiatives and is testament to our continued success in bringing innovation and modernisation to the market."
Syndicate 1988 will benefit from CFC's global insurance platform, which uses technology and data science to improve underwriting. The proposition also includes CFC's response team and mobile app, offering insureds access to real-time incident response and business recovery services.