However, applying an 'insurance mindset' to climate-related issues can support the 'race for resilience', says government's climate champion
"Insurance thinking and insurance solutions" must be incorporated into the UK's "race for resilience" and drive to net zero carbon emissions, to ensure it does not "end up in a world where uninsured losses are just eating up growth in the economy", said Nigel Topping, the government's high level climate action champion for the 2021 United Nations Climate Change Conference (COP26).
Speaking at an exclusive documentary screening hosted by Flood Re on 5 April 2022, Topping emphasised that "the way we manage climate risk is broken in the world, which is why all the numbers are still going in the wrong direction".
He continued: "When you think about all the fury around loss and damage, which is a negotiating term, loss and damage is really about how do we pool risk and pay for risk.
"It's about how do we apply the insurance mindset to structural risk in the global economy and global climate system."
Addressing industry peers and insurance policyholders at London's Charlotte Street Hotel, Topping cited research published by reinsurer Swiss Re in March 2022, which found that in 2021, natural catastrophes caused a total global economic loss of $270bn (£206bn) – however only $111bn of these losses were insured.
"The rate of uninsured loss growth is 5% to 7% per annum, which is greater than the global gross domestic product (GDP)," he added.
If this trajectory continues, Topping believes the UK will "end up in a world where uninsured losses are just eating up growth in the economy".
Correcting 'misalignment'
Topping was the opening speaker at Flood Re's evening event this week, showcasing his support for the government and industry-backed scheme's newly released documentary.
The film provided information on Flood Re's 'Build Back Better' (BBB) initiative, which is formally launching on 20 April 2022.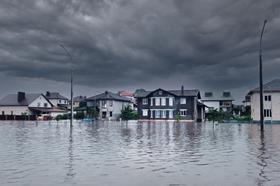 The BBB scheme, which Flood Re initially started working on back in 2019, will see the cross-subsidy centred organisation team up with partner insurers to offer claimants £10,000 to repair flood damaged properties resiliently – this could include, for example, using concrete and tile flooring rather than carpets, moving plug sockets higher up walls and installing non-return valves on pipes or air brick covers.
Topping described BBB as "a really exciting innovation" and "a really important piece of work that has implications way beyond the UK flood risk and UK housing market".
He said: "[Climate change] seems to be something that at a global level, has broken the world of risk management.
"I'm really excited about Flood Re and this documentary because I've long struggled to understand what seems to be a structural misalignment within the insurance system, where those [that] offer cover do so on a short-term basis and can then walk away or [increase] premiums.
"That means there is no incentive to do what Flood Re does, which is build back better. There's no incentive to structurally reduce risk."
He added that BBB is "an example of the kind of innovation that the UK is great at".
Topping continued: "It's not just engineering innovation - it's financial mechanism innovation.
"My hope is that this innovation, this mechanism – which does align the incentives and does reflect the fact that we know that risks are increasing – really does structurally drive reduction of risk, investment in risk abatement.
"It really does drive building back better and we [currently] don't have many mechanisms which do this around the world."