Protestors used superglue, chains and bike locks to block entrances while demanding the marketplace cease insuring coal, oil, gas, tar and sands
Lloyd's of London has been targeted by climate activist group Extinction Rebellion again, resulting in the marketplace stopping trading in the building for the day.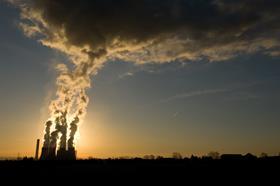 Trading has continued online with Lloyd's syndicates and employees told to utilise their remote capabilities.
As reported in City AM, more than 60 protestors from Extinction Rebellion have blocked the entrances of Lloyd's of London's building in Lyme Street, with some protestors also gathering on the roof of the building.
Members of the climate activism group used superglue, chains and bike locks to block more than 25 entrances to the building, but allowed staff already inside inside to exit.
The group is demanding that more of the insurance marketplace stops insuring coal, oil, gas, tar and sands that are fuelling the climate crisis. This is despite many Lloyd's syndicates agreeing to stop providing cover for fossil fuels.
Via stickers stuck to windows, Extinction Rebellion singled out the Trans Mountain Pipeline extension in Canada, which protestors believe is being insured through the Lloyd's marketplace.
Banners reading "End Fossil Fuels Now" and "Insure Climate Justice" were also unfurled by protestors who had scaled the outside of the building.
We're in the city to end the fossil economy.@LloydsofLondon and @BNCB stop underwriting fossil fuels. #StopEACOP #StopTMX.

These projects pollute our water, disrupt communities, & increase emissions in a #ClimateCrisis already threatening life on earth. #ActNow #EndFossilFilth pic.twitter.com/CnJHHbwJDL

— Extinction Rebellion UK 🌍 (@XRebellionUK) April 12, 2022
Climate steps
In 2020, Lloyd's set a market-wide policy to stop new insurance cover for coal-fired power plants, oil, sands and Arctic energy projects by 1 January 2022.
In addition to this it vowed to pull out of the business of insuring these entities altogether by 2030. It will also phase out existing investments in companies that derive 30% or more of their revenues from this area by the end of 2025.
A spokesperson for Lloyd's said: "Lloyd's supports safe and constructive engagement on climate change and we're continuing to work to support a responsible transition.
"In the interests of our people's safety, we have advised Corporation employees and market participants not to come to the building today. The market remains open and trading is continuing online using our remote capabilities."
The latest protest follows Extinction Rebellion dumping fake coal outside Lloyd's in April 2021 to protest the insurance market's role in insuring and investing in fossil fuel.