The action marks the first protest for coalition Insurance Rebellion, which is targeting Lloyd's
At 7am this morning (23 April 2021), members of climate change action group Extinction Rebellion unloaded a large pile of fake coal outside the Lloyd's of London building, protesting the market's role in insuring and investing in the fossil fuel industry.
Extinction Rebellion members used a tipper truck to dump black rubble – designed to look like coal – outside Lloyd's main entrance in Lime Street. The group placed safety barriers around the area before putting placards among the fake coal, using slogans such as 'stop Adani', 'we are the dead canaries' and 'do not insure the West Cumbria coal mine'.
Members also held banners reading 'climate criminals', 'fossil fuels = death' and 'insuring fossil fuels = ensuring climate breakdown.'
The action, which aims to highlight Lloyd's involvement in projects such as tar sands and coal mines, including the Adani Carmichael coal mega-mine in Australia, forms part of Insurance Rebellion – this is a network of groups, including Extinction Rebellion, which formed in April this year. Today marks the group's first protest.
Insurance Rebellion wants to halt climate and ecological breakdown by ending the insurance of fossil fuel projects and companies. The group's initial focus is Lloyd's, which it said provides around 40% of energy insurance worldwide.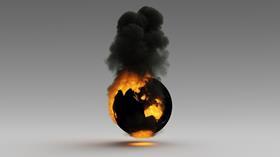 Extinction Rebellion also noted Lloyd's of London's investment in fossil fuel companies.
It said that although "Lloyd's appears to have a coal exclusion policy for its investments, this only applies to its Central Fund, which makes up just 3% of its entire investment portfolio".
The group believes that "Lloyd's has helped to insure some of the most polluting fossil fuels possible – tar sands and shale gas – even when many other insurers have refused."
Harriet, a spokesperson for Insurance Rebellion, said: "Every day that Lloyd's continues to insure fossil fuel projects we move one step closer to climate breakdown.
"Fossil fuel companies are destroying our planet, causing millions of people's homes to be flooded, burnt to the ground in wildfires and reclaimed by rising sea levels.
"We have to stop fossil fuels now before the climate emergency becomes any worse. Fossil fuel companies can't run without insurance, so let's stop insuring them."
Australia's 'deadly project'
To date, a number of insurers have confirmed that they will not underwrite Adani's Carmichael coal mine moving forward.
This includes Tokio Marine Kiln (TMK), Liberty Mutual, AXA XL, Aspen Re and Apollo. Brit committed to not renewing relevant policies in March.
Lloyd's of London's current market-wide policy allows its members to continue insuring existing coal projects until 2030.
Carmichael is a thermal coal mine under construction in the Galilee Basin in Central Queensland. The project was given the go ahead in June 2019 and construction began later that year. It is being led by Indian multinational organisation Adani Group.
Hayley Sestokas, an organiser with Frontline Action on Coal in Australia, said: "Adani is building its mine on stolen land. The Wangan and Jagalingou people have said no to Adani four times.
"Australia is already the world's biggest exporter of coal. If the Galilee Basin is opened up, this would double our output at a time when the world desperately needs to move away from coal to curb runaway climate change. That's why people from all over Australia are putting their bodies on the line to resist the building of this mine.
"Lloyd's need to stop insuring this deadly project. It's great to see people taking action in London today."
A Lloyd's spokesperson said: "Lloyd's is committed to accelerating its transition towards a more sustainable insurance and reinsurance marketplace and has set out specific actions and commitments to align with the goals of the Paris Agreement.
"We are actively involved in constructive engagement on the issue of climate change and continue to explore the ways in which Lloyd's can support a responsible transition."