Industry has 'a huge responsibility' to mitigate inflation-driven underinsurance and ensure that certain risks do not 'become uninsurable', says chief executive
Brokers and insurers have "a huge responsibility" to index risks based on increasing inflation rates, to both mitigate underinsurance and ensure that "certain risks" do not "become uninsurable and the value of insurance goes away", according to Colm Holmes, chief executive of insurer Allianz.
Speaking exclusively to Insurance Times, Holmes emphasised that it is essential for brokers and insurers to collaborate in order to combat the effects of rising inflation – especially as "there's probably a lot of younger people who have never experienced inflation" before and who may struggle to understand and manage the associated fallout and ramifications.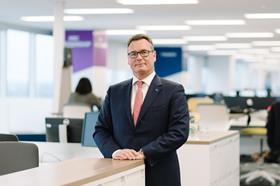 According to figures published by the Office for National Statistics (ONS) in May 2022, inflation in the UK is now at a peak of 9%, as recorded in April 2022.
Meanwhile, the Bank of England believes inflation has the potential to reach a high of 10% in the coming months.
Holmes explained: "Insurance doesn't work well when brokers and insurers are not working well together.
"There's a huge responsibility on brokers and insurers to ensure that we index risks. If we don't, the UK already has a problem with underinsurance and if we don't index those risks on the basis of where we're seeing inflation going, all you're doing is just reducing the amount of protection companies have.
"It's incumbent on the broker community and insurers to work together to ensure that we retain the level of cover that customers have.
"That will mean premium increases at the same time as you're seeing the need for hardening of rates because we're seeing inflation in our industry – we're all seeing wage inflation, parts inflation, commodities inflation.
"We're entering a period that a lot of us haven't been in for a long time. These are the times where it's really, really important that we work well together."
Social responsibility
Holmes noted that the insurance sector has a "social responsibility", as well as a corporate one, to create solutions to market-wide problems, such as inflation – he added that relying on "too clever" government and industry reinsurance schemes is not always the answer here.
He said: "We know there's a lot of things going on in the market right now in terms of disclosure, commission rates – particularly in the real estate area – that it's important that we work collectively to deliver solutions to the market.
"I've always believed insurance has a social responsibility in the economies that we're in, as well as a corporate responsibility, and we need to figure out how do we provide insurance solutions.
"Whether it is personal or commercial customers, our first goal should be how do we provide a solution? We can't allow certain risks to become uninsurable [or] the value of insurance goes away."