An investigation into the cause of the fire is ongoing and potential liabilities are unknown at this stage
AXA has revealed that it provided insurance for two of the contracting firms that were working on Notre-Dame's restoration prior to Monday's blaze.
In a statement AXA confirmed its French division provided civil liability coverage to two companies involved - Europe Echafaudage and Le Bras Frères. It said it is fully co-operating with investigators, with potential liabilities unknown at this stage.
In addition AXA Art was invloved in the insurance of certain artefacts and ceremonial objects in Notre-Dame.
However, AXA confirmed that as a historical momument belonging to the state, the cathedral itself is self-insured by the state. Several prominent French businesspeople have donated to restore the cathedral, with AXA itself donating €10m to this cause.
Approximately €300m has also been pledged, €200m from French billionaire Bernard Arnault and his conglomerate LVMH and €100m from another French billionaire, François-Henri Pinault who is married to actress Salma Hayek.
In the coming weeks AXA said it will work with its employees, clients, partners and French heritage stakeholders to offer its expertise in favour of better prevention and risk management.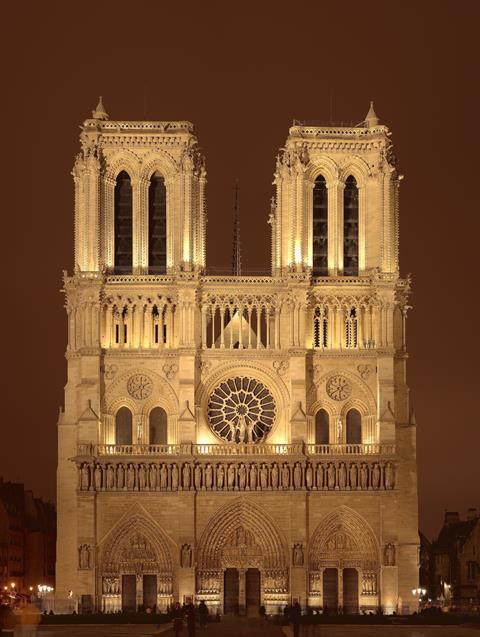 Investigation
On Monday evening officials reported that the cause of the fire was unknown but could be linked to renovation work.
The Paris prosecutor's office added that it had launched an inquiry into the fire, while France 2 television reported that police were treating it as an accident.
Paris public prosecutor Remy Heitz later stated there was no obvious indication the fire was arson and also believes it was an accident.
"The cause of the fire is currently under investigation," said an AXA spokesperson. "All AXA teams are fully cooperating with state services to aid in the process. We must now be patient and let the specialists do their work."
Advice
James Lygate, chairman of fire forensics investigation firm IFIC Forensics, explained that heritage buildings were at greater risk of fire due to a lack of building regulations at the time of construction.
He said hollow cavity walls and pipes traversing through floor voids and walls were particular high risk factors, as well as the use of old, dry timber.
But Mark Hews, group chief executive at Ecclesiastical, said that while major fires like this are rare, in the vast majority of cases these buildings have been fully restored despite substantial damage.
"As a long-established specialist insurer of churches and listed heritage, we have a wealth of knowledge and expertise in the restoration of these very special and complex buildings.
"We stand ready to join others in providing as much help as we reasonably can to support the restoration. To this end, in conjunction with our parent charity, Allchurches Trust, we have offered to provide significant practical assistance and advice to Notre Dame during this difficult time. Further details will follow," he said.
Cost of restoration
Clive O'Connell, partner at law firm, McCarthy Denning, added: "This awful event does show how important it is for the guardians of sites of great cultural heritage to protect them and, particularly, the cost of restoration through insurance.
"In either event, the cause of the fire will be investigated. If it transpires that the fire was caused as a result of negligence, it is likely that either the church authorities or their insurers will seek recovery from those responsible and their insurers.
"If claims are made against insurers, either property or liability insurers, the cost of the fire will be very considerable and will impact on the reinsurance markets."
Subscribers read more
Case Study: insuring and reparing a 17th century house after near total devastation