It follows the MGA startup announcing redundancies in March and the business hitting some significant challenges with the pandemic
Pay-as-you-go insurtech startup Coverly is no longer offering small business insurance and will be closing.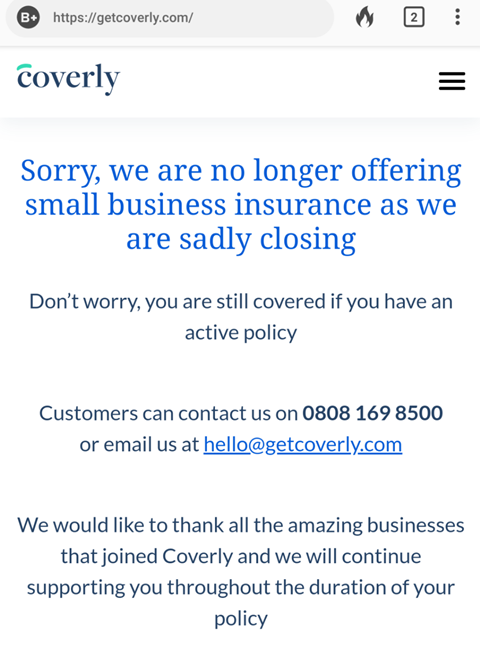 This was the message on the insurtech's website.
Although it has reassured its policyholders that they are still covered if they have an active policy.
The message on its website read: "We would like to thank all the amazing businesses that joined Coverly and we will continue supporting you throughout the duration of your policy."
It follows Coverly's parent company – Bibby Financial Services (BFS) announcing a restructure earlier this year in March which included a number of redundancies and its Liverpool office closing.
Covid-19 challenges
BFS told Insurance Times: "The launch of Coverly has been a real success and the team have achieved a great deal in a short space of time, reaching more than 3,000 customers in just over a year.
"However, Coverly requires further cash injection in order to grow. In early 2020 we began to look to the external market for this investment. Since the outbreak of coronavirus we have been unable to attract the investment needed in order to support the business's growth.
"In line with our 'Focus and Grow strategy', BFS has decided to focus our efforts on our core invoice finance and foreign exchange businesses, where we have a greater ability to support SMEs during this challenging time."
Meanwhile BFS said in response to the changes it said: "The changes BFS announced in January relate to our UK invoice finance business's geographical footprint to ensure we are located in the right places to support clients and local business communities. The decision to close Coverly is not related to these changes."
In January the insurtech was making headway in its mission to become a virtual insurer after making two key appointments.
It aimed to help brokers get around the dilemma of SMEs working hours differing from broker working hours by allowing SMEs to access cover digitally at any time. This in turn would boost SME insurance uptake.
Coverly was originally launched in 2019 by Jodi Cartwright who previously worked at Aviva and Brokerbility, the insurtech offered on-demand insurance for SMEs.
Coverly has been contacted for comment.
---
Not subscribed? Become a subscriber and access our premium content