The firm's economics team estimates a 1.9% uptick by the end of 2024
Professional services firm KPMG has predicted an 1.9% increase in 10-year government bond yields over the next five years, which it believes will be "music to insurers' ears".
Today, KPMG's economics team published its UK government bond market report in anticipation of the government's Budget announcement next week.
The report stated that the 1.9% uptick in 10-year government bond yields by 2024 "reflects an increased supply of bonds thanks to fiscal expansion and market adjustment of expectations for future interest rates.
"Bond issuance will gradually regain its position as an important driver of the fixed income market, as the economy slowly recovers and market participants question the need, and merits, of keeping interest rates low for so long.
"We expect a small increase in yields to 1% by the end of 2020, and further increases to 1.35% by 2022 and to 1.9% by 2024.
"These will primarily be caused by the rise in government spending, the subsequent increase in the supply of government bonds and moderate increases in expected inflation, as well as a gradual readjustment of the market's expectations about future monetary policy."
Insurance impact
Ferdia Byrne, insurance partner at KPMG UK, said this development is a good thing for the insurance sector.
"Insurers are desperate for an uptick in the bond market," he explained.
"With interest rates so low for so long, margins are under pressure, with the need to invest in technology for efficiencies and lower costs, coupled with eroding returns on investments for general insurers.
"Solvency is also being adversely affected by low rates and the issue gets a lot more regulatory scrutiny when profits aren't flowing. If our predictions prove correct, it will be music to insurers' ears."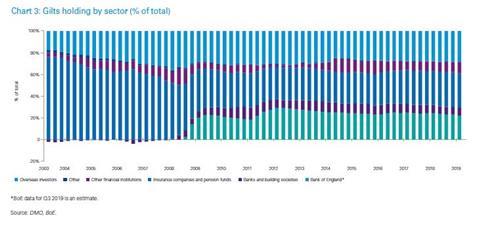 Future trends
Optimistically speaking, KPMG estimates inflation in the UK to rise. The report reads: "The BoE increases its base rate in late 2022 with the market factoring in the beginning of a new interest rate cycle. There is a sustained increase in yields, which reach 2.4% by the end of 2024."
On the flip side, KPMG's pessimistic forecasting states that "Inflation remains low for a prolonged period, the economy stagnates, the government loses credibility, and poor economic performance, together with unsuccessful Brexit negotiations, generate further pessimism and a lack of trust in the institutions. There are further credit downgrades. The coronavirus epidemic becomes a pandemic and has a significant negative impact on markets worldwide. The currency depreciates and the economy enters a recession."
As to which of these forecasts bears fruit, only time will tell.
Subscribers read more
The Briefing – MGA markets: Should MGAs carry their own risks?