Lloyd's will continue its review of poorly performing portfolios into this year
Lloyd's of London has set out plan to get "back on track" following the publication of its 2018 results yesterday which saw a £1bn loss at a combined operating ratio of 104.5%.
John Hancock, performance management director stated in a trade press briefing yesterday that the "results were not where we wanted to be.
"Our first priority is to get Lloyds back on track to a sustainable and profitable position.
"Which has meant some fast and decisive action."
Performance reviews
Lloyd's introduced performance reviews to look at unprofitable syndicates, that were placing "undue strain" on the better performing ones.
Hancock added that the approach to this meant looking across portfolios and ensuring each demonstrated "sustained profitable performance" however this did not mean that everything had to be fixed immediately.
He said that this would differ from business to business as each would be at different stages of evolution.
But all plans had to be "strong and credible."
Lloyd's looked across the market to see if there were any lines that were leaving a gap or having a disproportionate effect on profit.
It located eight classes that were performing badly having applied this approach.
This includes two non-US property classes and three marine classes (cargo, yacht and hull.)
In 2019 Lloyd's will continue its portfolio management.
Improve or remove
It also asked each syndicate to take a "bottom-up approach" looking across their own portfolios, locate the "very worst reports" and then agree with Lloyd's a plan to either improve or remove those lines of business.
This initiative is referred to as Decile 10.
But Hancock said it was moving to a more balanced approach.
Overall, he said: "No class of business avoids being closed."
He explained that this was part of a stronger plan as it addresses its poorest performers while also also looking to maximise the strongest syndicates.
January
January 2019 demonstrated "good momentum" but Lloyd's said that there is "still more to do."
Hancock cited £7bn worth of new business that has been approved and he said it was encouraging to see some movement.
Propectus
It also announced that it will be launching a prospectus on May 1 to better understand how Lloyd's should evolve and provide customers with the support and protection needed to grow.
To do this it is in the process of gathering feedback from a plethora of stakeholders.
It is in effort to redefine Lloyd's purpose "Sharing risk to create a braver world."
It has based its thinking around six potential ideas for building the future of Lloyd's:
Complex risk platform
Standardised risk exchange
Capital platform
Syndicate in box
Claims solution
Ecosystem of services
Oversight 2019
Hancock said that although 2018 was about "setup success", 2019's oversight is about "maintaining that focus."
In practice this means regular portfolio management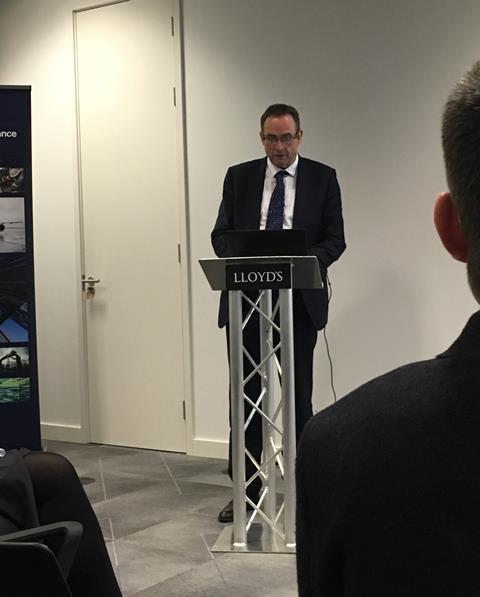 He explained that means everyone has to deliver those values for sustainable performance and aim to deliver profitable growth.
He said the firm will start to move from "minimum standards" to "best practice."
It has already started this in catastrophe risk and underwriting. It will move to best practice pricing later this year.
However John Parry, chief financial officer named three operational highlights in 2018.
Closing the performance gap: an initiative in partnership with Lloyds given the market profitability
Market modernisation: continued investment in digitalisation
Lloyds Brussels: designed the be "Brexit-proof"
He added: "We have been injecting capital to cover losses in the fourth quarter."
Subscribers read more
Lloyd's clampdown could see capacity crunch