Speaking to Insurance Times at Biba, Egan commented on recent changes he has implemented at RSA
RSA is looking to brokers to turnaround its business, and will not take a quick fix option on its past struggles.
This is according to RSA's new UK chief executive Scott Egan, speaking to Insurance Times at the Biba conference yesterday.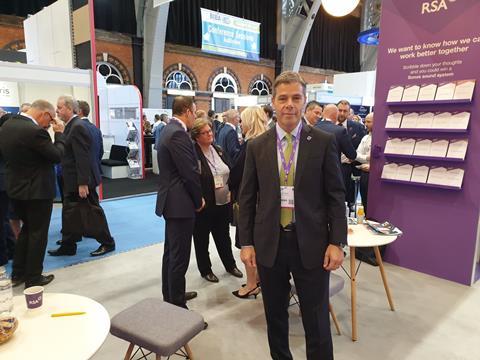 The recent publication of Q1 results showed the signs of improved performance at the loss of premium, as RSA began exiting swathes of its London market business last year.
But Egan vowed RSA would not "shrink to greatness", and said in broker channels, the business is growing.
"There is a very specific area, which is our London market business in particular, where we have just exited certain products and certain markets, and we are taking really tough underwriting action," he said.
"In some of those areas I am not driven by the top line, I'm driven by the bottom line and returning the business to profit."
Egan is continuing to review the business, and didn't rule out exiting more lines. But he said the review was mostly looking at the commercial specialty, wholesale and London market parts of the business.
Since taking up the role Egan has already overhauled the senior management team and introduced new initiatives for brokers. He said in his conversations at Biba, brokers had already told him the business feels fresher.
Egan added: "Changes at the top are for me to make to try and make us better, but in terms of what that means for brokers, what they want to see is whether it translates into better service and better products.
"We won't get there overnight, but already brokers are saying it feels a bit more agile."
Subscribers read more
Briefing: Why RSA's MGA losses casts doubt out on the model