The new card will ensure UK residents have access to emergency healthcare when travelling in the EU
The UK government officially launched the Global Health Insurance Card (GHIC) yesterday, as part of its Brexit deal with the EU.
The new GHIC replaced the European Health Insurance Card (EHIC) and ensures that residents in the UK have access to emergency and medically necessary care when travelling in the EU. This includes medically necessary treatment for a pre-existing or chronic condition.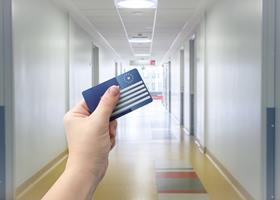 Minister for health, Edward Argar said: "Our deal with the EU ensures the right for our citizens to access necessary healthcare on their holidays and travels to countries in the EU will continue.
"The GHIC is a key element of the UK's future relationship with the EU and will provide certainty and security for all UK residents."
The EHIC will still be valid in the EU if the card is in date.
Therefore, the UK public only needs to apply for the free GHIC via the NHS website, when their current EHIC expires or they do not have a card in place at all.
Insurance is a must
However, the government has advised that anyone travelling overseas should take out comprehensive travel insurance.
A spokesperson for the Association of British Insurers said: "The new Global Health Insurance Card is good news for travellers, but it is not an alternative to having travel insurance. Travellers to the EU and beyond should not leave home without travel insurance.
"As well as covering what can often be the eye-wateringly high costs of needing emergency overseas medical treatment- in one case a £78,0000 hospital bill in Spain following a road crash – polices can cover risks such as the loss or theft of possessions."