Enter now to be in with a chance of winning one of 12 awards for 2015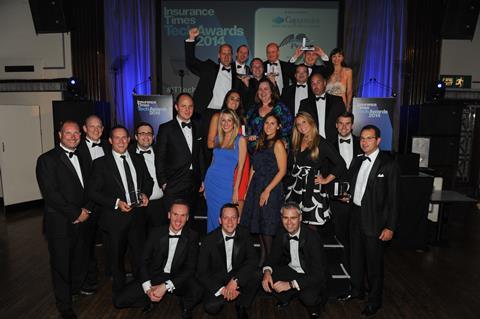 The Insurance Times TechAwards is making a return for 2015, with 12 awards up for grabs.
The awards, run in association with Capgemini and Pega, include four insurer-specific categories, three specially for brokers and five for the wider insurance industry (full list at the bottom of this article).
To submit your entry to the awards, or to find out more, click here. The deadline for entries is 19 June.
Announcing the launch of the awards for 2015, editor Saxon East said: "We launched the TechAwards in 2011 to encourage and recognise the creative application of technologies to making things better – for customers, for partners and for colleagues working in insurer and broker firms in the UK. 2015's Awards promise to be even more exciting and inspirational.
"From telematics to e-trading, big data to cyber, the UKGI market is undergoing change like never before. We are really looking forward to seeing what Insurers, brokers and their partners have in store for this year's judging process. I'm delighted to be welcoming a fresh new team of judges for 2015 all of whom bring distinctive and invaluable insights to one of the most important items on the UKGI agenda: how can we make digitalisation and modern technologies work with human ingenuity to create better service?"
Insurer Awards
Best use of technology to improve broker experience
Most innovative use of data
Technology partnership of the year
Technology innovation of the year
Broker Awards
Most innovative use of data
Technology partnership of the year
Technology innovation of the year
Further Awards
Best use of technology to improve end-client experience
Best use of social media
Fraud prevention initiative of the year
Telematics champions of the year
CIO/CTO of the year