The IFB's David Neave and Phil Bird are widening their battle against insurance fraud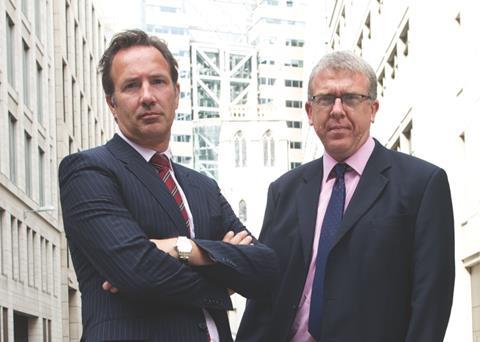 Insurance Fraud Bureau (IFB) chairman David Neave and director Phil Bird (pictured left and right, respectively) are the men responsible for leading the insurance industry's anti-fraud body in its constant vigil for those who try to cheat the system.
Meeting Insurance Times in the bureau's modern office based at the ABI's London headquarters, Neave is the more relaxed of the pair, while Bird seems the more exuberant one. Together, they are here to discuss how the IFB has evolved and how it will change in the future to keep preventing insurance fraud.
The IFB was founded in 2006 to detect fraud by analysing claims data from insurers and databases such as the Claims and Underwriting Exchange. Using that information the IFB can weed out potential fraudsters for investigation and possible prosecution.
The bureau is mainly funded by motor insurers, but also has members from outside the industry, such as local authorities and transport companies that have an interest in helping tackle insurance fraud. Unsurprisingly, the organisation focuses mainly on motor fraud, but dabbles in other areas such as household.
Police cuts hit hard
The IFB received £2.75m in funding from its backers for 2012 and will have 36 staff by the end of the year. Bird says the IFB and police are currently investigating 33 fraud cases worth around £60m.
But the IFB does face several challenges. The first is that cuts to police budgets have meant that forces around the country are seeing insurance fraud as less of a priority.
Bird says the Insurance Fraud Enforcement Department (IFED), the City of London police unit dedicated to tackling insurance fraud, is helping fill the gap, but the lack of interest from other forces is a blow to the IFB.
A second challenge is the occasionally poor quality of information the IFB gets from insurance databases. "With better data quality we could, without a shadow of a doubt, be doing more for the industry," says Bird.
Much of Bird and Neave's time recently has been taken up with preparations to launch the Insurance Fraud Register (IFR), a scheme that will log all known fraudsters on a database to help alert insurers to potential criminal activity. The IFR was developed by the IFB on behalf of the ABI and the bureau will maintain the register.
Other than helping insurers, Bird says the register will serve a wider function too. "There is a clear argument that, from a strategic perspective, it's the right thing for the industry to do," he says. "It's not about the economics, it's about the industry being seen to give the right message to fraudsters."
As an insurance sector we are joined up about what we are doing and how we are doing it … there is a lot of strategic direction"

David Neave, IFB
Bird adds that giving the right message is also a function of the IFB itself, and that publicising the fact that insurers are getting tougher on fraudsters is almost as important as the investigative work the bureau does.
There's a lot of talk about whether or not the widespread public acceptance of insurance fraud is changing, but Neave is certain that the IFB's actions are helping.
"We are now seeing that those messages are registering, that insurance fraud is not a victimless crime," Neave says. "But you can't point to a single silver bullet that's taken us to where we are now. It's been a lot of hard work, but as an industry we should be proud of what we have achieved."
Although the IFB is a well-known name in the insurance industry, Neave is keen to point out that the organisation should be seen as one part of a bigger machine. He says that the IFB works closely with its members, the IFED and the IFR to drive down fraud levels.
"As an insurance sector, we are joined up about what we are doing and how we are doing it," says Neave. "We don't have initiatives going off left, right and centre - there's a lot of strategic direction."
He adds that one of the main obstacles to an industry-wide response to fraud came from insurers' view that how they dealt with fraud gave them a competitive advantage. Now, he says, this is rare.
"I think most insurers have got comfortable with the broader picture, which is that by acting together, you end up with better capability than acting independently," he says. "If we are a weak market, fraudsters will be attracted to it. If we are strong, we will deflect fraud to other sectors."
Expanding beyond the industry
Neave believes the future of the IFB could lie outside insurance. He says the sector is adept at detecting fraud and that once other business sectors have caught up, they could all work together to weed out even more fraud. If this happens, Neave says he wants the IFB to help build the project.
Bird adds: "We are actively involved with the National Fraud Authority in its proposed development of a cross-industry development hub, which is a live development. It's not just pie in the sky."
He wants the future of the IFB to include signing up more brokers and non-insurance firms, as well as enticing the 5% of motor insurers that aren't members already. "The broader spread we have, the greater chance we have of putting away the bad guys," Bird says.
Neave also wants the IFB to do more of what it does already. "I would like to see us being given a broader mandate over time and being known as a business that delivers on behalf of its members," he says.
The IFB has changed and achieved a lot in its first six years but, as insurance fraud evolves, Neave and Bird know they cannot rest on their laurels. Vigilance will need to be the bureau's watchword for some time yet.
The IFB's three challenges:
● Police budget cuts have meant less interest in investigating insurance fraudsters
● Poor-quality data from insurers is affecting how well the IFB can weed out fraud
● Running and expanding the Insurance Fraud Register