Insurance Times survey reveals frustrations with waiting times for referrals. Come to stand G34 to pick up a leaflet and receive a glimpse of findings from the Insurance Times Etrading Ratings Report.
More than one-quarter of brokers are shockingly having to wait longer than expected for their e-trade referrals to be cleared, according to the UK's largest broker e-trading survey.
The Insurance Times Etrading Survey 2019 found that 22% of brokers surveyed said they are having to wait one day and 5% are having to wait two days or longer.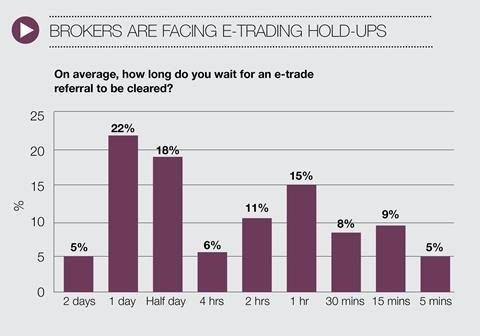 Insurance Times' head of research, Savan Shah said: "Having to wait a day or longer to have your e-trade referral cleared is not good service at all.
"It doesn't matter what shape or size broker you are, you simply shouldn't stand for that kind of service.
"On the positive side, just over one-third of brokers say they are getting their e-trade referrals cleared within the hour.
"That's the kind of service all insurers should be looking to deliver. Some brokers say their wait is only five minutes.
"When I spoke to some insurers who delivered good clearance times, they were surprised and concerned that some brokers have to wait so much longer."
Not just about price
Shah, who had responses from 761 brokers, said referral clearance times showed that e-trading wasn't just about price.
"Brokers may think they are getting the best deal by going for the cheapest price, but do they really want to have to wait two days for an e-trade referral clearance?
"What about the responsiveness in resolving problems that brokers have? There are certainly other factors to be considered."
The survey was part of Insurance Times's e-trade 5-Star project.
This year, Insurance Times has converted the broker scores on insurer service into a star rating system – with five stars being the top service.
Shah said: "We did it in response to brokers wanting a more user-friendly version of the survey. This way, they can communicate it with clients very clearly, on the service that different insurers deliver on broking."
At Biba, Insurance Times will publish summaries of some of the results of the five star survey. Come to stand G34 to pick up a leaflet and receive a glimpse of findings from the Insurance Times Etrading Ratings Report.
E-trading takes another leap forward
This year's Biba will prove to be another important milestone in e-trading as several insurers ramp up their offerings to brokers.
AXA is reaping the benefits of its merger with XL by releasing a number of e-traded products.
Marine cargo and accident and health will be made available immediately through AXA's e-trade platform AXA Connect, with plans for the environmental liability product to be added to the platform.
Home & Legacy has revealed its online e-trading strategy for the year.
The high net worth broker added motor to its e-trade platform, Home & Legacy Online.
Its underwriting and markets director Ade Ewington has told Insurance Times that he hopes to launch its landlord offering on the platform in Q4. All of its products are targeted to be available online by year-end.
Elsewhere, NIG is continuing to improve its market-leading e-trade platform TheHub.
NIG has added average free cover on property owners, making it easier to save and find quotes.