The broker's group director of transformation tells Insurance Times about its newest technology partnership and how the business plans to revamp back office functionality to support both staff and customers
In September, Vantage Holdings group chief executive Jacquie Boast confirmed that the broker was undergoing a multimillion-pound transformation programme, which included a rebrand to Kingfisher Holdings and an aggressive approach to M&A activity.
A huge part of this project has been a heavy investment in new technology.
According to Nick Reid, Kingfisher's group director of transformation, the technology focus – particularly around back office consolidation – is designed to simplify operating processes across Kingfisher's wider group of businesses, providing uniformity and shared best practice, as well as showcase new data capabilities, using elements such as artificial intelligence (AI), machine learning (ML) and digital chatbots.
To complete this work, Kingfisher has partnered with insurtech Inzura – the broker has deployed its policy document validation app, InzuraGo, across three of its motor brands, including telematics business Autosaint, which targets young and new drivers, challenged driver specialist Ladybird and van insurance arm First Van.
For Reid, the InzuraGo product helps to deliver his mantra for transformation: that it should be easy to be a customer and easy to be a colleague.
"The insurance businesses really haven't changed for nearly 300 years. We've been doing stuff around the periphery, but the time is ripe to really make insurance easy and more accessible for people and that's one of the driving forces behind the transformation programme," he added.
With this in mind, the InzuraGo app "is really becoming the centre of the universe for our customers" as Kingfisher moves from a telephone-only customer communication strategy to something more akin to an omnichannel approach, empowering customers to self-serve via the app to upload documentation and pictures, following the app's carefully constructed advice and camera templates.
This switch in communications should help Kingfisher to be more relatable for its telematics customers, added Reid.
He said: "Let's think about the demographic of customer that we're dealing with here. We've got brand new drivers, on average 18 to 21-year-olds, and we've got to talk to them with technology that's in their DNA. We've aligned our technology now with the help of the guys at Inzura to actually support what that customer journey needs to be."
Moving forward, Reid wants to gamify aspects of the app, to further engage Kingfisher's younger target audience, and switch on InzuraGo's education module to help improve driver behaviour.
Supporting staff
As well as polishing the customer experience, InzuraGo is designed to support Kingfisher's staff too, making validation processes quicker and more efficient.
Prior to implementing InzuraGo, Reid said it typically took between 15 and 20 days to collect a customer's documents and validate them – now, that end-to-end process takes six day. Reid reckons a new record of sub five days is fast approaching too.
"Previously, we'd ask customers to upload various documents to various points and it just didn't feel as though everything was connected together," Reid explained. "There's a lot of hardship built into the process."
Richard Jelbert, chief executive of Inzura, added: "It's turned that really complicated manual process into something which is really a check in a tick box exercise."
Inzura's technology has also proved useful during the Covid-19 pandemic, as it is a decentralised system that can easily be used by colleagues working from home, Jelbert continued.
"Covid's really focused the minds of quite a lot of brokers and insurers and they've had, perhaps, real difficulties looking at how to run what's normally a centralised, manual process in a more decentralised way," he explained.
"Quite a few [of our] customers have slowed down and taken stock and are waiting to see, but Kingfisher accelerated and moved more quickly, and that's exactly the right sort of thing to do because this sort of technology enables you to work remotely. It decentralises and really puts the power in the hands of the end customer in a really convenient way."
Data capabilities
For Jelbert, however, the actual functionality of InzuraGo is simply the "tip of the iceberg" – it is the data behind the technology that can really provide value to clients such as Kingfisher.
Jelbert said: "One of the problems that's existed is that quite often data just sits in siloes, so you have all of the black box data sitting in one place.
"You might have policy information sitting in another and what we're really looking forward to working with Kingfisher [on] is bringing all of that data together, so it's combining the telematics data, it's combining the policy information and the claims data, but also all of the information that we capture during the validation process - the photo data and all the metadata that's associated with the photos, such as the location, the type of camera, whether it was taken indoors or outdoors.
"All of that information comes together to form a very powerful data set, giving underwriters comfort that they really do have an accurate picture of the person that they're supporting and [providing] cover for.
"We see our job as being part of that long-term solution where we can bring all of that data together to form that complete view.
"Whilst we do have this InzuraGo app, that really is the tip of the iceberg - that's the bit that makes it convenient for the end customer, but then all of the work that we do internally on our back end, on our insurance platform is all about bringing that data together, generating live dashboards."
Reid plans on combining Inzura's data capabilities with increased data enrichment, using other partners such as LexisNexis, which currently provides driver scores for Kingfisher. He continued: "What we noticed was that we were doing a lot of things downstream of the sale and that was then putting burden on a customer but also putting burden on a colleague to process things.
"So, what we want to do is use enrichment far more effectively than we ever have been, so that as the customer gets to the quote stage, we've already validated over 90% of the things we would ordinarily ask you downstream and we know because we've validated you from authenticated databases. What you see as a customer is a quote that you're going to pay and what we see is a customer and a set of risks that we're happy to take on."
Transformation road map
Nick Reid, group director of transformation at Kingfisher, said the next milestone in the broker's transformation programme is March 2021. At this point, Reid hopes to have finessed the functionality of the InzuraGo app, adding a welcome message and extra modules, such as the education piece.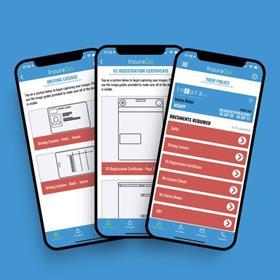 The business is also sourcing a new platform, which it will move its main lines of business on to ready for the spring. This will include a focus on Kingfisher's classic car book and its leisure line – Kingfisher has a partnership with the Camping and Carvanning Club, for example.
Reid said: "We've got a very, very clear roadmap of what we're going to do with our products to move over into the new world and the time frames from when we're going to move them.
"We've also got a whole range of products that are within our design area at the moment, which are not yet in the marketplace, but again all designed to meet customers' needs, make it simple for a niche customer to be able to interact with great insurance products in a really simple way.
"That's the next stage of consolidation in the back office and that's what we're heavily focused on between now and March next year."
The broker's role
For Reid, technology assists brokers with their fundamental job role of making complex insurance matters simple for customers.
He explained: "The role that we've got to play is cutting through the jargon and making it easy for the customer to know that they've got the right product. When you look at the very complex, that's the role of technology in the age that we're at, so we use technology to deal with the complex and make it simple."