Underinsurance is a major problem, with many cash strapped SMEs cutting back under the financial strain of the coronavirus-influenced recession
More than half (51%) of SMEs have stopped paying for a range of business insurance policies during the ongoing Covid-19 pandemic.
Employers' liability insurance was the line that most SMEs abandoned; other lines included business property cover, professional indemnity and cyber insurance.
This is according to the latest Insurance Index research from Premium Credit, which found that nearly one in five (19%) SMEs have stopped paying for business interruption (BI) insurance.
The premium finance provider is advising SMEs to consider premium finance, which for a small charge enables them to pay monthly for cover instead of in a lump sum.
Steve White, chief executive at Biba, said: "The Premium Credit Insurance Index outlines some worrying statistics. It's vital that SMEs maintain insurance cover so they remain protected during these challenging times. Insurance brokers can help them choose suitable insurance and discuss premium finance should they want to spread the cost of their insurances."
Underinsured
Premium Credit's chief sales and marketing officer Owen Thomas said: "SMEs have had to battle to stay afloat during the pandemic, which makes it understandable that they have cut back on insurance and taken out more credit.
"Necessary, often legal cover such as employers' liability is likely [to be] cut as firms reduce numbers of staff and wage rolls as a result of Covid-19. Cutting back on critical insurance can, however, be a mistake as not having the appropriate cover or being underinsured can be a serious risk for SMEs.
"It is also worrying that so many SMEs are relying on their own credit cards or their business cards to pay for insurance. We would advise SME owners to speak to their insurance brokers for advice on how best to fund the appropriate level of cover for their business."
The research showed the risks of being underinsured – 42% of SMEs said they had suffered damage or losses in the past five years, but they could not make a claim because of not being insured or being underinsured.
Around 24% said they were underinsured, while 18% did not have the appropriate insurance.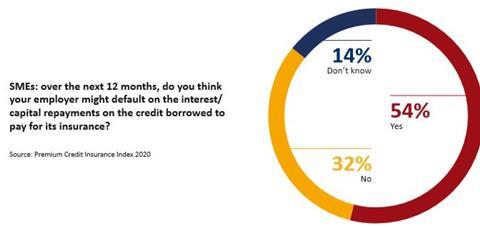 Credit reliance
Premium Credit's index aims to understand how insurance buying is financed. It revealed a growing reliance on credit to fund insurance, with nearly two out of five firms (37%) borrowing to fund insurance premiums due to the pandemic.
And most firms taking out extra credit relied on credit cards – 64% used business credit cards and 52% of business owners used their personal bank cards to fund business insurance.
Meanwhile, SMEs and corporates that have used credit are paying £1,670 more than in the previous 12 months.
The index shows SMEs using credit have suffered financially, with 46% defaulting on interest or capital repayments in the past year, while 54% worry they may default in the year ahead.
Premium Credit's research pre-pandemic, in March, found that 63% of firms said paying for insurance is a high priority for them – this has dropped to 59% in research conducted in August and September.