Taking the group chief executive mantle from Tulloch, Blanc tells trade and national media she's 'not a 'business as usual' person and I haven't come here to do a 'business as usual' job'
Amanda Blanc is set to steer Aviva in a new strategic direction after assuming leadership following former group chief executive Maurice Tulloch stepping down after a 15-month tenure. As the insurer's first female chief executive in 324 years, Blanc is looking to make changes "at pace" in order to ensure Aviva is "the leader in our industry again".
Talking to trade and national press this morning, Blanc confirmed that "we do not have a day to waste" in terms of exploring the company's strategic options; this includes looking at the relationship between the GI and life insurance arms of the business.
She continued: "We're not going to be sitting back on our laurels and saying we've got plenty of time to think about this – we haven't. There will be deliverables.
"We are really excited about the strategic opportunities that we have. We have a great GI franchise in the UK and across other territories and we want to have an ambition and strategy for the group where we can invest in growth and continue to grow that.
"I'm not a 'business as usual' person and I haven't come here to do a 'business as usual job'. We will look at the strategic options, we will look at all of those options that are available to us, but we will also talk about investment, about growing the business."
Blanc initially joined Aviva in January as a non-executive director and chair of the firm's Customer, Conduct and Reputation Board Committee – she said this experience has given her valuable insight into the company's strengths, as well as where further action may need to be taken. She will use this experience to review all of Aviva's business portfolios.
"Having already served on the board since the start of the year, as well as competing with Aviva for much of my career, I have a good idea of where we have strengths and what actions we should take across our business portfolios. That said, I'm here to build a business that provides our investors with long-term, sustainable value," she explained.
Coming home
Blanc described her new appointment as "coming home", due to the fact she started her career at Commercial Union, which then became part of Aviva.
George Culmer, chairman at Aviva, told journalists that Blanc is the "right leader" for the business.
"In making this appointment, we undertook a full market assessment and Amanda was the standout candidate," he said. "She brings all the energy, focus, ambition and – importantly – track record of delivery that we need for the next phase of Aviva's journey. And the board backed her appointment unanimously."
Blanc added that she was "honoured and delighted to be asked to lead Aviva".
She continued: "When I was asked by my friends and family about returning to being executive again, I said the only role that might tempt me back would be the opportunity to lead Aviva, because Aviva is and should be a great company.
"Aviva once set the tone for the industry; it was innovative, it was distinct, it had energy and ambition. We need to be the leader in our industry again. My job will be to give all our stakeholders, colleagues, customers, brokers' clients and investors reasons to believe again.
"From now on, Aviva will be thinking and acting with pace.
"But we need to unify the organisation around our shared purpose, set a firm strategic direction for the business and ensure we take our people with us on that journey.
"We need greater diversity, not just in gender and race, but also in thought. We need to increase the pace of our decision making and change our current ways of working. The pandemic has acted as a catalyst to reimagining how we run our business, how we meet demands and through what channels. We will accelerate that change.
"We need to make it easier for our customers to deal with us, have clear internal processes and a more straightforward structure. We do not have a day to waste."
Furthermore, Blanc plans on using her new position to influence the culture at Aviva.
"Clearly a new CEO, a group CEO particularly, one of the wonderful things about that is you do have the opportunity to set the culture, you do have the opportunity to set the tone from the top and that is what I am really looking forward to. I would see that as being one of my key roles and we will be doing that at pace," she said.
Despite giving up her reel of non-executive director positions upon her appointment, excepting her post as the independent chair of Welsh rugby's Professional Rugby Board (PRB), Blanc still needs to touch base with the government regarding her role leading its independent review into flood insurance; she is due to speak to government officials this afternoon.
She added that the qualitative and quantitative research has already been completed, so the report is on track for its scheduled September publishing date.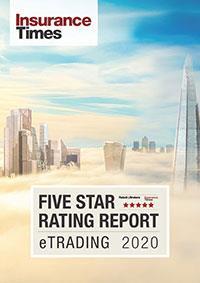 Covid-19 implications
For Blanc, the ongoing Covid-19 pandemic will also impact her leadership style and focus areas moving forward.
She explained: "This is a pivotal point for Aviva. The world has become a more uncertain place, markets are volatile. The depth of economic decline and the speed and nature of recovery is unclear. Consumer behaviour is changing rapidly, accelerated by the pandemic and people want organisations and businesses to better reflect the diversity of the communities they serve.
"The successful organisation of the future will need to be adaptable and flexible to respond to the changing environment. They will also need to be relevant. I don't underestimate the scale of the challenges we face, but I am convinced that Aviva has a strong and vibrant future."
Speaking on the debate around business interruption (BI) claims associated with the coronavirus outbreak and related mitigating measures, Blanc added: "I don't think anybody can deny the reputational damage from BI over the last few months to the insurance industry, I certainly would not pretend to walk away from that.
"However, I do think the position that Aviva [is] in, I think we were very clear at the May update around our position that the vast majority of our policies do not have cover. We do have some policies that provide cover and those we are already paying claims on, but those are specific broker wordings. We are supportive of the FCA's stance."