Etrading commercial combined policies presents a "key opportunity" as brokers look to digitally trade more complex covers moving forward, says expert panel
Brokers that failed to invest in "systems, technology or digital" prior to the onset of the Covid-19 pandemic last March have been "exploited" by rival firms that "invested heavily in technology as part of their normal business investment plans", said Raoul Suthers, head of sales and distribution at insurer Aviva.
Suthers was speaking as part of a webinar hosted by Insurance Times this week, titled 'How Covid-19 has accelerated digital adoption in the insurance industry'. Airing on Wednesday 16 June, the session was chaired by Insurance Times head of research Savan Shah, in association with Aviva.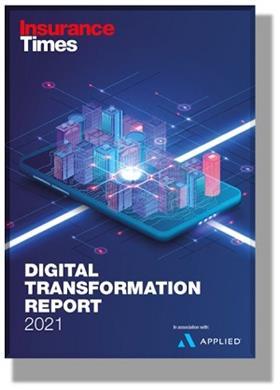 Explaining what he saw within the broking community to online attendees, Suthers said: "[The pandemic] really challenged brokers.
"It really challenged big organisations like us that have the resources, but when you're a relatively small broker, implementing the business continuity plan that you perhaps never thought that you were going to have to implement, sourcing the equipment – there was a shortage of laptops because everyone was working from home – get staff operational. Cover questions from customers – customers were in a terrible state of panic at the very beginning of this, not knowing whether or not their businesses would survive.
"The critical thing for most brokers was how do they communicate with their customers from the position of that backdrop and how do they help them survive that crisis?
"The thing that very quickly emerged – the brokers that had invested heavily in technology as part of their normal business investment plans were able to very quickly adapt.
"It was enormously impressive just how many brokers were able to very quickly move staff from home, be able to access all their systems, maintain the right governance and control and be able to continue with the customer service and that was incredible.
"Where brokers hadn't invested in systems, technology or digital or embraced insurers' technology, they were exploited by those other brokers.
"There are plenty of examples where customers simply couldn't get through to their broker and therefore turned to the other offers that they get every single day from other brokers."
Digital adoption
Research conducted this year by Insurance Times revealed that 77% of brokers are currently investing in cloud-based technologies to help improve operational efficiency, added Shah, while 70% are exploring data analytics.
Looking ahead to technology investment over the next three years, Shah noted that 96% of brokers are planning to spend on internal blockchain applications. Other future areas of investment for brokers include customer facing blockchain applications and artificial intelligence (AI) to improve client facing processes.
Insurance Times research also pinpointed three key areas of focus for brokers around digital transformation: evolving communications to be more digital, using broker management systems and building greater security and privacy into websites and applications.
Suthers added that insurers must follow a similar adoption trajectory and focus if they are to retain brokers undertaking an online etrading journey.
"Insurers and certainly Aviva are looking at trying to get much, much better at that because at the moment, too many of us let the broker fall out of the system when actually we've got a great solution for their customer," he said.
"But if they don't know it, or we're not making it very clear to them, or helping them access that solution, they will fall out and go to the next easiest solution along.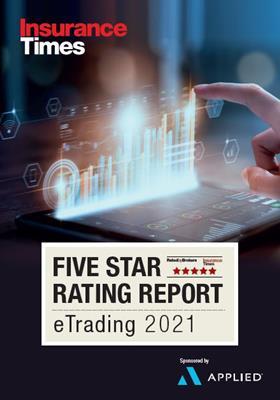 "Us investing in technology, investing in people to make that journey much easier, much slicker and to be able to access everything Aviva can offer is of critical importance."
Future of etrading
The focus on digital transformation during the pandemic has, in turn, led to an increased demand for insurance purchasing journeys to start online and for these to deal with more complex covers than has previously been the norm for the past five to 10 years, added Maria Crockart, Aviva's digital and automation director.
Historically, etrading has been more prominent for smaller or bundled insurance products, however Crockart noted that this scope must be broadened in order "to meet customer ambitions".
For David Hockey, head of trading at Aviva, commercial combined policies present a "key opportunity" here – Aviva is particularly keen to work with brokers on realising this specific etrading aim.
He added that speciality lines are another target area for etrading as current adoption levels are low.
Furthermore, "mature products" also should not be forgotten as these can always be improved upon, Hockey noted. For example, Aviva has reviewed the sums insured limits for its office and surgery cover.
Brokers are mainly looking for flexibility, Hockey added, so revisiting cover ranges or operational models could also be a good idea, he recommended.
Investing in etrading has never been more important, as the pandemic has clearly highlighted the accessibility it can provide the insurance market, Crockart continued.
Aviva's etrading investments so far have centred around its platform capability, as well as people and talent – Crockart emphasised that digital support is not purely around trading platforms, but should encompass a range of mediums.