There is 'growing insurer and broker appetite to trade more complex products' via etrading
The number of commercial lines policies being written via software organisation Polaris's etrading platform imarket reached a record high of 49,000 in March 2021, demonstrating a 5,000 increase year-on-year to beat the system's previous record, set in March 2020.
Imarket, which is used by around 2,000 brokers, connects broker software platforms to insurer systems for the purpose of etrading commercial lines insurance products.
Figures released by Polaris today (14 June 2021) show that there has been a 5% growth in the number of etraded policies via imarket in the first four months of this year – 491,000 policies have been traded on the platform so far, with this number set to exceed 500,000 in early quarter three.
Mirroring the trajectory of the Covid-19 pandemic, imarket volumes saw a 15% drop in April 2020 compared to 2019. However, volumes made up this ground in April 2021, improving by 21%.
Matt Doonan, imarket manager, said: "We've been pleased to see some growth in a difficult year.
"These figures demonstrate once again the resilience of the industry in the most challenging of times and highlight not just the essential nature of our products, but also [the] operational successes of trading remotely and securely throughout the pandemic.
"Whilst we are seeing increased broker adoption this year, the more macroeconomic trends of the pandemic – [such as] increasing hybrid working models and the eventual end of furlough - makes it much harder for any of us to predict etrade volumes, but the indications are positive and we know that automated routes to market have helped support brokers to service their customers insurance policies effectively and economically."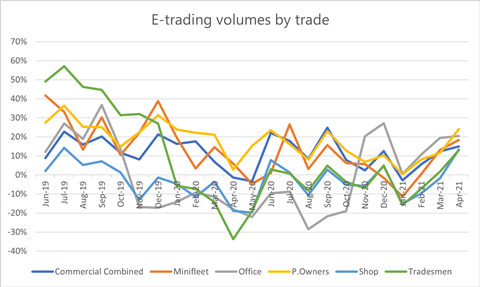 Change in policy monthly volumes compared to previous year. Source: Polaris
Consistency focus
Polaris reported that shop and salon policy volumes are still less than pre-pandemic levels, indicating that the high street is still suffering as a result of lockdown closures.
During April and May 2020, volumes dropped by 20% as shops were largely unable to open due to government intervention.
Volumes fluctuated after May 2020 and then reduced during the 2021 lockdown, before showing modest growth in April 2021 as venues started to prepare for reopening.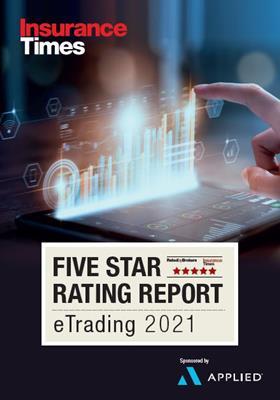 Commercial combined and mini fleet products are also gaining momentum, Polaris added.
The company explained: "While the volumes of these products are lower, average premiums are much higher and the growth in etrade demonstrates a growing insurer and broker appetite to trade more complex products through this channel.
"The total number of etrade policies in force for these classes is now nearly a fifth higher than before the pandemic."
Demand for property owners and tradesman cover remained "largely unimpacted" by the pandemic, making up more than two-thirds of the overall policy volume in imarket.
However, tradesman policies did see more volatility during the first lockdown last March, when many businesses opted to pause their insurance coverage, Polaris noted.
Volumes for this line of business have continued to mirror restrictions on trade activities and April 2021 showed strong growth as businesses began to trade again.
The analysis by Polaris also shows a growth in brokers renewing clients with the same insurer.
Doonan added: "During the first wave of the pandemic, brokers and clients favoured consistency over making major changes to their insurers.
"This could have been because carriers may have extended cover for premises to allow for longer period of unoccupancy during lockdown."