The new recruit has worked as Travelers' chief operating officer since 2016
Partners& has appointed Travelers' former chief operating officer for Europe Aaron Devitt in the newly created role of managing partner for North and Midlands.
This move is in line with the broker's strategy to create a strong platform and extend its presence in this part of the country.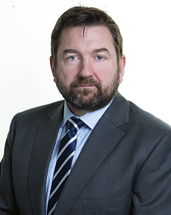 Devitt will report to Partners& chief executive Phil Barton and will be part of the group executive committee.
Speaking on the appointment, Barton said: "We believe in the notion of partnership – between our clients, our people and our insurer partners. [Devitt's] experience and insight will bring a different perspective and build on our thinking.
"We believe the era of the confrontational relationship with insurers is over – we're challenging the status quo and looking for the common ground to collaborate effectively with insurers, all for the benefit of the client."
Believing in partnership
Devitt joins Partners& from Travelers, where he has served as chief operating officer for Europe since 2016, overseeing distribution, IT, marketing, operations and strategy.
Devitt said: "When I learned about the direction of travel Partners& was taking, I wanted to be part of it. The opportunity to work with and bring together liked-minded professionals who share our values was too good to miss.
"I grew up in insurance believing in partnership and whilst it's often added to sales documents, it rarely delivers what our clients need.
"Like [Barton], I believe brokers and insurers are in the business of serving clients together, but too often that has become adversarial, leading to win [or] lose situations - with the client quite often being the loser."
Previously, Devitt spent 26 years in the British, Irish and Scandinavian insurance markets, where he managed businesses spanning commercial, financial and personal lines, including being managing director of Codan Insurance Denmark.
"I'm looking forward to connecting my experience of the broking market from the insurer side, where I've learned about what great broking can do for a client and, sadly, what poor broking can do too. I can't wait to combine that experience with Partners&'s ambition to revolutionise broking by providing the best advice and support," Devitt added.