The broker is 'forging a new path in the insurance world', says its UK sales director
Broker Partners& has hired Matt Crisp as its new merger and acquisitions (M&A) executive.
His role at Partners& will be to assist with building M&A opportunities, delivering the company's mission statement and ethos to private equity houses and corporate finance advisors.
Crisp, who has spent the last 18 years working in the M&A arena, has a track record of advising business owners, management teams and private equity houses.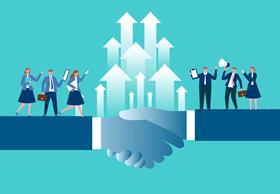 He will report to the broker's UK sales director Jon Miller.
Speaking on the appointment, Miller said: "It's great to have Crisp on board. He brings with him a wealth of experience from the corporate finance sector, which I know will benefit the team immensely."
Forging a new path
Crisp previously worked as sales director for an international corporate finance house.
Reflecting on his new position, Crisp said: "I'm delighted to be joining Partners& and bringing my knowledge and experience of corporate finance to the team. I'm looking forward to meeting new clients and sharing the unique Partners& proposition with them."
Miller added: "Partners& is forging a new path in the insurance world, putting advice before price and recruiting the very best staff to help us achieve our aims.
"We know Crisp will be a great addition to the team and we wish him luck in his new role."