Average value of gap insurance claims rises by 24% this year, says the firm
New analysis has revealed a 24% rise in the average value of guaranteed asset protection (gap) insurance claims between January and September 2022, compared with the equivalent period last year.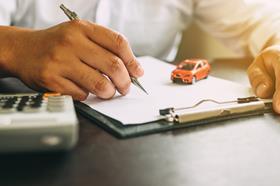 Released today (16 November 2022), the analysis from Intelligent Motoring also explained that the cost of living crisis could create a "negative equity trap" for thousands of motor insureds without gap insurance policies if their motor insurance claims did not cover the total value they owed for the vehicle.
Gap insurance covers the difference – or gap – between the amount an insurer pays out for a motor claim and the amount needed to purchase a new or equivalent vehicle in a total loss claim.
Insurers will generally pay an insured the current market value of a car in the event of a total loss claim, meaning gap insurance is valuable for customers when vehicle values drop after purchase.
Out of pocket
Duncan McClure Fisher, chief executive at Intelligent Motoring, said: "Although used car prices are currently at an all-time high, the Society of Motor Manufacturers and Traders has reported a second consecutive quarterly decline in used car sales.
"Whilst this is in part due to used car stock shortages, the cost of living crisis is believed to be taking its toll on big ticket purchases, which is likely to reverse the upward trend seen in used car residual values."
A fall in the value of cars could leave motor insureds out of pocket if they were forced to claim for the current market value of their car having already paid peak prices or locked themselves into finance agreements at these prices.
"This could leave hundreds of thousands of consumers who bought a used car at a peak price finding themselves caught in a negative equity trap, if they write off their vehicle before their fixed term finance agreement has come to an end," explained McClure Fisher.
Value add product
The 24% rise in the average value of gap insurance claims reflects a fall in the market value of vehicles relative to when they were bought as gap insurers pay out more for the difference between purchased vehicles and their current market value.
McClure Fisher added that customers with gap insurance were protected against the financial risk of having to pay off a fixed term finance agreement not covered by an insurer.
"Those who have already safeguarded against this predicament have benefitted from higher value gap insurance claim pay outs, demonstrating its success as a value add product," he added.
Providing gap protection to motor insureds could also help to "build greater customer loyalty and retention for the future" by providing "affordable protection", explained McClure Fisher.