Women now make up 27% of people at executive level compared with 22% last year
Gender diversity has improved at nearly all levels in the insurance industry, although there is still far to go.
This is according to the Association of British Insurers (ABI) which found in its second annual talent and diversity survey the proportion of women on executive teams had increased by 5 percentage points.
These results have been published ahead of the ABI's annual conference on Tuesday 26 February.
The survey picked up changing trends in recruitment practices focused on increasing diversity.
Amanda Blanc, chair of the ABI and EMEA chief executive at Zurich Insurance Group, said: "Gender equality is only one aspect of diversity but I am encouraged to see growth in female representation at manager and executive levels, and more women than men continue to join the industry.
"This progress needs to be repeated, year after year, if the industry is to become truly diverse. And where we make progress on gender, we must scrutinise what is working and why so we can improve diversity across the board – on sexuality, on ethnicity and more.
"Matching the diversity of our workforce to the diversity of the communities we serve is essential to our industry's future success. Such a change takes time, but the last few years have seen a real shift in commitment at the highest levels of the industry, and at last there are signs the dial is starting to shift."
Findings
Despite the number of women in senior positions remains too low, women now make up 27% of people at executive level compared with 22% last year.
This is the equivalent to growth of around a fifth.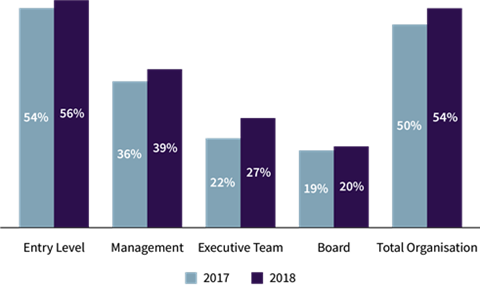 Board level progress for women remains low, but it saw a 1% increase, and women account for one in five jobs in the boardroom.
Improvements were also seen at managerial level where women account for 39% of workers, up from 36% the previous year.
And more women than men continue to join the industry at entry level.
With 61% of firms stating that they have a mentoring programme targeting workers who are underrepresented within the company.
Over three quarters (88%) of firms have an executive sponsor for diversity and inclusion. This was up from 74% last year.
A new question in the survey found more than half of responding firms had a member of the executive team specifically responsible for LGBT+ inclusion.
There was a small drop in BAME (black, asian and minority ethnic) representation – from 15% down to 13%.
An increased use of inclusive recruitment practices, with the proportion of firms using diverse interview panels up sharply from 67% - 78%.
And more firms are also using blind CVs and gender-balanced shortlists.
Huw Evans, ABI's director general added: "Insurers know that becoming a fully diverse and inclusive industry requires firms to have a strategy and to make changes – simply having positive intentions won't wash."
The survey looks at the insurance industry and covered more than 103,000 staff this year, an increase of more than 25% on the first survey.
It is based on firms in ABI membership and does not cover insurance brokers.
Reaction
Buzzvault's managing director, Charlotte Halkett believes that there is still more to do though.
She said: "In the 15 years I have been speaking at conferences there's been no discernible change. Less than 10% female representation on stage is quite usual. If insurance is to reflect its customer needs, it should reflect its customers' demographics and the changing way we live.
"The tech sector also suffers from massive female underrepresentation. So when you bring tech and insurance together, as we have at Buzzvault, the issue is compounded."
While Penny Searles, chief executive at Smartdriver club reflected on her time working in the industry.
She said she feels privileged to work in insurance and be an example of how anyone, male or female, can start at the bottom and work to the top.
"The industry has changed dramatically and will continue to change. For example 40 years ago the industry was mainly based in London, with decisions being made in all male, wood panelled boardrooms along with a silver service lunch to accompany the discussions.
"Now insurance providers operate all over the UK, led by an increasingly diverse mix of executives, employing local people. Women have also risen up the ranks and I see that continuing," she added.
Barriers
Halkett added that for many women who choose to have families and return to work it can be extremely tough.
"Many women feel they need a higher standard of entry than they actually need to go for the more senior roles, so self-selection can be a barrier. This feeds into a real lack of mentorship for women who want those top jobs and indeed role models – we have some, but not nearly enough.
"Recruiters are also a barrier when they stick with what's known and look to find candidates that are similar to those who have previously filled that particular post," she said.
Searles agreed: "Women will always face a challenge of having to step out of the business for a while and lose the pace, and the same would apply to men. For example, if a man takes a year out to travel or scale a mountain he would face the same difficulties in returning to work as a woman coming back from maternity leave.
"You've missed product developments, office gossip, market forces, technology changes.
"It is a distinct disadvantage when you are out for a period of time regardless of how responsible the employer is at keeping you in the loop.
But she said it's the same as in any industry.
"It is a distinct disadvantage when you are out for a period of time regardless of how responsible the employer is at keeping you in the loop," Searles added.
And she reiterated that insurance as a sector is more diverse than it ever has been.
Subscribers read more