Five firms are predicted to be the fintechs and insurtechs to watch
Data and analytics firm GlobalData has used its unicorn prediction model to identify the top 50 artificial intelligence (AI) startups that are anticipated to become unicorns.
A unicorn is a private technology startup which is valued at $1bn (£716,425,000) or more.
According to GlobalData, the future AI unicorns in fintech and insurtech are Token, Bambu, Rabbet, Flybits and Zeitgold.
Token: A London-based open banking startup which offers open data (data that can be freely used, re-used and redistributed) services, such as accounting package integration, credit risk analysis and cash flow management.
Bambu: A robo-advisor provider that develops technology for financial institutions by using an application programming interface (API) and software as a service (SaaS) platform to make wealth management digital and simple. The company is headquartered in Singapore with a subsidiary in the UK.
Rabbet: A construction finance platform that parses documents and connects information with the aim of creating frictionless transactions, based in America.
Flybits: A customer experience platform for the financial services sector, based in America. It aims to enable banks to design, launch and measure data-driven consumer experiences.
Zeitgold: A fintech based in Germany, which has developed software based on AI for tax consultancies to carry out accounting tasks digitally.
Apoorva Bajaj, practice head of financial markets at GlobalData, said: "AI is more accessible than ever before and the possibilities for its use in any industry are endless.
"Several investors are keen to place the bets [as well as] understand how top AI startups are disrupting industries and, in the process, achieving unicorn status."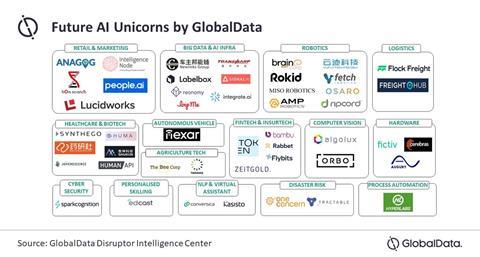 GlobalData's unicorn prediction model is based on a proprietary quant-based scorecard tool combined with a machine learning (ML) model.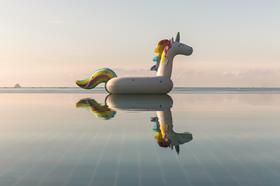 Its predictive analytics feature is based on the analysis of data points related to venture capital (VC) investment activity for startups.
This then allows it to identify whether a VC-funded company has the potential to become a unicorn.
Bajaj added: "Investing early in high performing startups usually implies more equity, control and multiple times return on investment.
"Without a doubt, AI finds [a] plethora of use cases, which are expected to rise further going forward."