The home insurer and insurtech is warning policyholders to make sure they have adequate insurance
The cost for UK household winter claims could be more than £3.8bn in repairs as extreme weather events continue to increase.
This is according to insurtech Policy Expert's latest research which found that the number of UK weather events over the last three years is higher than the total in previous decades.
It found that 31 extreme weather events hit the UK between 2018 and 2020, which was higher than the 29 recorded between 2008 and 2017.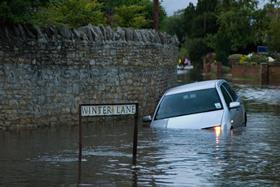 Policy Expert warns that the sharp rise in extreme weather is further confirmation that homeowners must make sure they are adequately insured as a precaution.
Andrew Elder at Policy Expert, said: "As we're all continuing to spend more time at home during the pandemic, there are straightforward precautions homeowners can take to safeguard their homes against the risks of adverse weather – alongside securing comprehensive home insurance."
It follows Storm Christoph sweeping through England and Wales this month as the Covid-19 pandemic continues.
Breakdown
Policy Expert's research suggested that severe damage caused by extreme weather events has driven an influx in claims on home insurance policies from Brits over the last year.
It found that the number of claims during last year's February 2020 storms were 54% higher than the same period the previous year.
Meanwhile, February 2020 saw the joint highest volume of extreme weather events, with three storms that month.
These included:
8 - 9 February, Storm Ciara: The most severe storm in the UK since February 2014. Winds reached 60kt and over a month's rain fell across parts of West Yorkshire in around 18 hours with several hundred properties affected by flooding.
15 - 16 February, Storm Dennis: Occurred just one week after Storm Ciara. Western upland parts of the UK received 50 to 100mm or more rain, resulting in widespread flooding.
28 February - 1 March 2020, Storm Jorge: Heavy bands of rain highly concentrated in Wales, causing further flooding and the closure of the M4 in West Wales.
Elder continued: "The UK's intensifying climate highlights the pressing need for homeowners to shore up their properties now to mitigate the possibility of home damage from increasingly common extreme weather events."
These findings come as Policy Expert launches it Winter Home Watch Guide 2021 which is intended to provide advice for homeowners to reduce or avoid potential damage to their property.