Technology investment to support the new working model has helped staff to become more 'efficient and productive', says chief executive
Digital insurance broker IGO4 has this month (February 2022) launched a four-day working week for its 300 employees, with no change in salary, as part of a new employee benefits package.
The new four-day working week has been implemented to better suit employees' needs following the Covid-19 pandemic.
IGO4 chief executive and founder Matt Munro said the change aimed to create a positive impact on both productivity and employee wellbeing.
Other new staff benefits introduced this month include private medical cover, enhanced maternity leave and fully paid paternity leave, as well as an electric vehicle car scheme. Employees are also able to take two days off a year for volunteering work.
Efficiency strategy
Munro added: "Covid has shattered many of the myths of the modern workplace.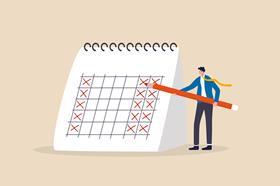 "It taught us that we could be productive in a four-day week as we invested heavily in technology and introduced new ways of working, making ourselves more efficient and productive in the process.
"This gave us the confidence to explore seriously how we could continue to achieve the same customer and business outcomes while reducing colleagues' hours and delivering the ultimate work-life balance.
"We consulted extensively within the business and held focus groups to validate new proposals.
"The result is a compelling proposition for both new starters and our long-standing team members. We look forward to assessing its impact over the coming months."