The insurer's charitable foundation has also made a £100,000 donation to coronavirus causes
Lancashire has revealed coronavirus losses totalling $35m in its Q1 2020 results, with investment returns also suffering, resulting in a 1.9% net investment loss
Group chief executive Alex Maloney said that, despite the increase in claims, the insurer remained on a sound financial footing.
"We have established provisional reserves for pandemic related liabilities of approximately $35.0 million," he said. "In line with the broader market, our investment portfolio delivered a negative total net investment return of 1.9% for the first quarter, which is to a large degree, driven by unrealised losses. This was in line with our expectations of performance given the stressed market conditions.
"The Group has more than adequate liquidity and solvency headroom and management will continue to monitor and regularly review the longer term impact of the COVID-19 pandemic on the Group."
Maloney added that demand across other business classes had held up in the face of the coronavirus crisis.
"Whilst the world's attention is naturally focused on the current pandemic crisis, we should remember that this is one of many possible risks, and that risk management is our field of expertise," he said. "We therefore continue to work with our brokers and clients to deliver our insurance and reinsurance products in all our areas of specialism including swift payment of valid claims.
"Whilst we expect economic challenges for clients in a number of sectors, including aviation, marine and energy, we have thus far seen demand hold up in many of our business classes."
Gross written premium across the group rose 11.8% to $242.8m, compared to $217.2m for the same period in 2019. Despite this growth, the insurer's marine book did not fare so well, shrinking 15.8% to $25.0m (2019: $29.7m).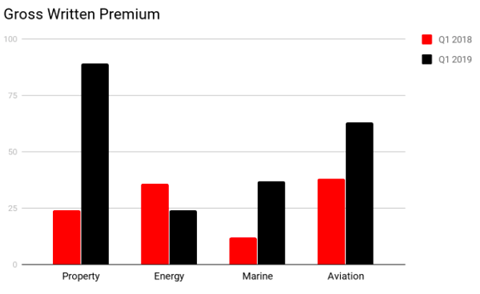 The insurer also announced it has made a donation of £100,000 to coronavirus causes, with funds split between the UK and Bermuda.