Insurance Times survey reveals 75% of brokers consider service levels to be the most important part of their relationship with an insurer, while almost 70% want to be offered exclusive products
Insurance Times research has revealed that prioritised service levels is the quality most valued by brokers in an insurer.
Three quarters (75%) of brokers ranked prioritised service levels in the top five propositions they value most in an insurer, while more than two-thirds (68%) want to see exclusive products.
NIG's director of centralised and eTrading Jaime Swindle said that the survey findings justified the insurer's focus on broker service.
She said: "We have developed service models to reflect the differing requirements of how brokers like to trade, providing an experience that's tailored for them and suits their needs."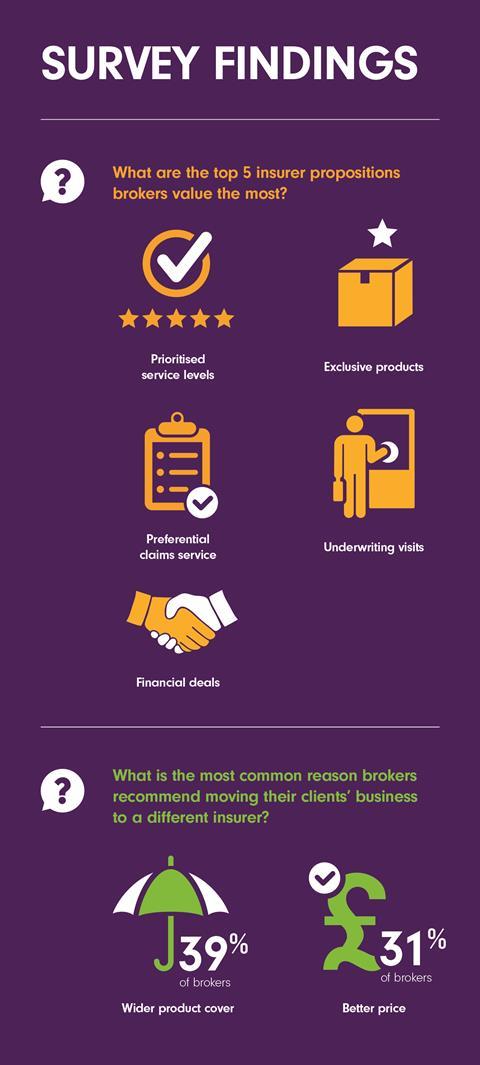 NIG developed the National Trading Centre in Manchester. It is designed to give brokers with branches countrywide a consistent, attentive and responsive service regardless of geography.
As well as experienced commercial trading underwriters in eight regional offices, there is also the Peterborough eTrade centre for brokers who like to trade online, the National Schemes Centre for brokers with bespoke scheme requirements, and the Real Estate Centre of Excellence for brokers with a real estate specialism.
Swindle said NIG prides itself on its flexibility. The insurer has around 300 bespoke deals in place with brokers and caters to their differing requirements in a range of ways.
Moving
The most common reasons given by brokers looking to move a client's business to a different insurer were wider product cover (39%) and better price (31%).
And Swindle said the survey results showed the importance of having an exclusive product offering.
She said: "We have a full range of commercial insurance products to meet the needs and continually challenging risks faced by business enterprises throughout the UK.
"We have 10 eProducts including Office package, Property Owners, Business Package and Mini Fleet.
"For the more complex cases that cannot be transacted online we have experienced commercial trading underwriters in our eight regional offices who underwrite a diverse range of commercial risks."
More worrying findings from the survey showed it takes almost half of all brokers (49%) up to a day to get an eTrade referral cleared.
Effortless
NIG is aiming to make trading as effortless as possible for brokers.
Swindle said the key to this is responding to referrals in real time and continuously reducing the number of referrals brokers are presented with.
She said: "We're also exploring more data enrichment to enable us to collate risk information in advance, reducing the number of questions we ask brokers in the field set."
On how insurers could be easier to deal with, several brokers also indicated that insurer staff required more expertise and understanding of insurance.
One broker commented: "Insurer knowledge is in a dire state."
Among the ways NIG is becoming more effortless includes its online chat feature, regular on-site visits, outbound calling on eTraded new business quotes, and having an underwriter contact the broker within 48 hours of an enquiry.
And Swindle said the survey findings underlined NIG's commitment to flexible underwriting and quality staff.
She added: "Investment in our people is crucial, not only have we recently recruited 17 high calibre, front-line underwriters, we have a robust underwriter development programme to continuously increase knowledge and authority levels.
"Brokers within our regional offices have dedicated contacts helping to build stronger relationships so we can truly understand the needs of our customers and respond urgently when needed.
"It's important to get it right first time, reducing administration and allowing underwriters and brokers to focus on better understanding the risks to get the best outcome for their customers."
Subscribers read more
Phil Bayles reveals the brokers Aviva will and won't work with