'Many customers will be feeling the pinch in their household budgets,' says senior insight analyst
The average quoted price of home insurance premiums surged by more than 20% in the 12 months to July 2023, new figures published yesterday (31 August 2023) revealed.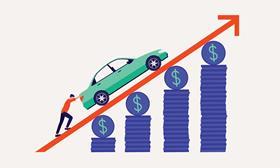 According to Consumer Intelligence's price index, premiums rose by 25.7% during the period, the highest annual increase on record.
It meant the average price for buildings and contents policies stood at £212 in July, up from £162 in May.
However, Consumer Intelligence warned this figure could be heading higher still.
This was because it found that that quoted prices rose 9.9% in the three months to July 2023 – the highest quarterly increase since it started tracking in 2014.
And overall, quoted premiums have now risen by 31.1% since it first started collecting data in February 2014.
"This is the first time that 12 month inflation has broken into double digits and much of the inflation has happened this year with quotes premiums up," Georgia Day, senior insight analyst at Consumer Intelligence, said.
'Feeling the pinch'
Consumer Intelligence's price index is compiled using real customer quotes from price comparison websites (PCWs) and key direct providers.
It revealed that all regions saw annual increases in premiums of more than 20%, ranging from the west midlands at 22.2% to 28.4% in the south east.
"Many customers will be feeling the pinch in their household budgets against a backdrop of the rising cost of living," said Day.
"People who have made claims are likely to feel the pinch even more as our data shows the highest increases for customers who have made an escape of water claim, which is one of the most common claims in the home insurance market, according to Go.Compare."

My journey in insurance has led me to proudly don the patches of the London Market and SME brokers.

Beyond the world of insurance, I've ventured into creative pursuits that promote inclusivity and representation.

My written work has found a home in publications such as Orange Magazine, Peahce Project, and others.
View full Profile