New research from insurethebox revealed that its telematics data has shown women to be safer drivers, with young males 130% more likely to speed than women the same age
Telematics insurance provider insurethebox has revealed new data that shows that young female drivers renewed with the greatest discounts on their insurance premium after the first year in 2019.
The renewal premiums take into account collected telematics data from the back box fitted to the customer's car, alongside a number of traditional rating factors, to build a personalised quote.
The insurer said that while gender does not play a role in pricing, there are disparities in the savings at renewal based on who drives the safest.
In 2019, female drivers at insurethebox renewed with an average 28% discount after their first year; whereas male drivers renewed with a discount of just 25%.
Women renewed with a better discount in almost all age groups after their first policy year; with only male drivers aged 26-30 receiving discounts at a level similar to those received by women.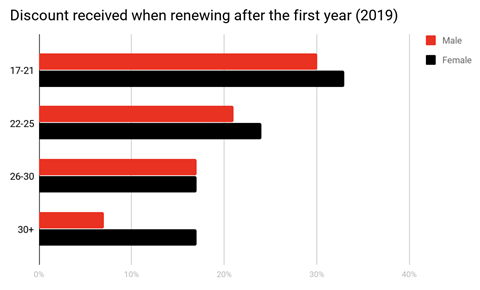 Gary Stewart, service manager at insurethebox said: "We reward customers who demonstrate safe driving behaviour on our roads – which is reflected in the personalised renewal premium. Gender itself isn't a rating factor, and as such, any trend is based on individual ability and tendencies to drive in a safer manner.
"We have continuously witnessed young men posing a greater risk due to speeding much more than young women – based on our data, 17-year-old men speed 130% more than women of the same age. We therefore see respectively more women renewing with us than men; telematics can be greatly rewarding for a safe driver."